Nokia gives deadline for Symbian apps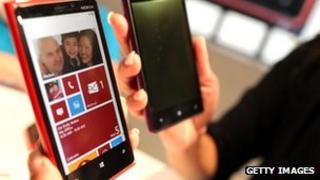 Nokia has sounded a further death knell for the operating systems Symbian and MeeGo, announcing no new content will be published on its app store from 1 January 2014.
The company told developers they had just three months left to update content.
The news has angered loyal fans still using the handsets.
Nokia took the decision to make Windows Phone 7 its default operating system in 2011.
The email outlining the timetable reads: "If you have Symbian and MeeGo content in the Nokia store, it will continue to be available for download to customers, and you will continue to receive download and revenue reports as well as payouts for downloaded content.
"However, starting January 1, 2014, you will no longer to be able to publish any new content or update existing content for Symbian and MeeGo."
Swift shut-down
Microsoft bought Nokia's mobile phone business for 5.4bn euros ($7.2bn; £4.6bn) last month.
The purchase is set to be completed in early 2014, when about 32,000 Nokia employees will transfer to Microsoft.
While the news is unsurprising, some had thought the eco-system around the operating systems would continue for a few more years. Technology firm Accenture is contracted to provide support to Nokia for its remaining Symbian handset until 2016.
Customers and developers took to Twitter and other online platforms to express their anger about the swiftness of the close-down.