3G bad, 4G better?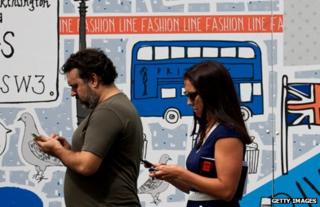 "Spectrum?" says a colleague as I return from a briefing on that subject at Ofcom. "Wasn't that who Captain Scarlet worked for?"
I explain loftily that spectrum is nothing to do with a 1960s children's programme but is "the hidden infrastructure that underpins technology, manufacturing and services".
That at least is how Ofcom's boss Ed Richards describes it, in a very high-fibre session on the regulator's radio spectrum plans. Just how the UK plans to ensure that the UK keeps ahead on managing the airwaves over the next decade, and how the technology might develop is obviously vitally important for our economy.
But for all the talk of White Spaces technology, machine-to-machine communication and even 5G, it is when he looks back, not forward that Mr Richards makes the most arresting point. I put it to him that consumers are not that interested in futurology - many of them want to know why they haven't yet got decent 3G, let alone 4G.
His response surprises me in its frankness. "The wrong decision was made about coverage of 3G." Mobile operators were only required to reach 80% of the population under the terms of the 3G auction. "That stored up a problem of 20% of people not being able to get the service that everyone else had."
Conveniently, of course, that decision was made in the 1990s before Ofcom existed, but its consequences, according to Ed Richards, are being felt today. He says the lessons were learned when it came to 4G.
The 4G auction has been criticised - it only earned £2.3bn compared to the £22.5bn for 3G - but he says that this process has delivered a better outcome for more people. This time, one licence stipulates 98% indoor coverage, which effectively means 99% outdoors. "We have taken action to make sure there will be near-universal coverage. People will see a big difference in the next three to four years."
Mr Richards also sees a role for 4G in filling the gaps in superfast broadband coverage in rural areas, along with satellite coverage and the new White Spaces technology. This employs spare spectrum not used for digital TV broadcasts, and will be trialled over the coming months.
Microsoft will test its use in Glasgow to provide free public wi-fi in a city with the lowest rates of broadband uptake in the UK. And on the Isle of Wight a business called Click4internet will be working out whether White Spaces can be employed to reach places where the terrain poses challenges for conventional wireless broadband.
Ofcom believes that these days Britain is as well placed as anywhere to to deliver fast fixed and mobile broadband to just about everyone. But the 20% who have been starved of 3G coverage (often in the same places as the broadband "notspots") are entitled to ask why it has taken so long to fix things.