Glasses that can translate text unveiled at Ceatec 2013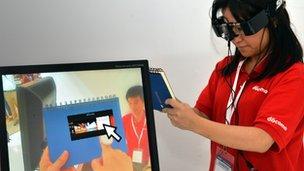 Glasses that can translate a menu have been demonstrated by a major Japanese mobile operator.
NTT Docomo's wearable Intelligent Glasses can project an image of translated text over unfamiliar characters, the company said.
The spectacles also allow the wearer to view and manipulate virtual images.
The wearable technology was demonstrated at Ceatec 2013, a consumer electronics show in Japan.
NTT Docomo said that Intelligent Glasses could be a boon to tourists.
"Character recognition technology enables instant language translation for users travelling abroad and reading restaurant menus and other documents," NTT Docomo said.
The glasses, which are still at a research stage, can show translated text in a user's first language, according to the company.
The head-mounted display can translate Japanese, English, Chinese and Korean languages.
Translation takes over five seconds for the prototype.
The technology can also turn flat surfaces into pseudo-touchscreens, NTT Docomo said.
A person can manipulate a virtual image in their field of vision using a ring that relays hand movements on the blank surface back to the glasses.
The spectacles also use facial recognition software to display personal details of a person who is in view, the company added.
The data is called up from remote servers using smartphones.
Wearable technologies have "tremendous potential, but face a lot of hurdles", IDC consumer technology consultant Jonathan Gaw told the BBC.
"Small-bore applications like on-the-fly menu translation won't sell a pair of smart glasses on their own, but a large eco system of applications might," he said.
Smart glasses face immediate issues of size, weight and battery life, Mr Gaw said.
In the consumer world, fashion and social acceptability concerns also come into play, he added.
Some of the major technology companies are in the process of developing wearable technology.
For example, Google is developing head-mounted spectacles as part of the Google Glass project.
Developers are in the process of putting together applications for Google Glass.
Related Internet Links
The BBC is not responsible for the content of external sites.