Blackberry hits out at Gartner analysis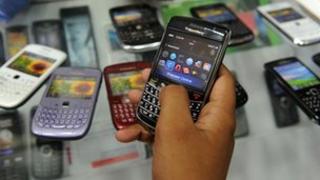 Blackberry has dismissed an influential recommendation that customers should move to other mobile technologies.
The embattled smartphone maker said that firms using its products did not need to switch.
Blackberry said conclusions drawn about the viability of its business plans were "purely speculative".
Analyst firm Gartner had based its recommendation on Blackberry's financial losses and planned redundancies.
Blackberry said the job losses were part of its strategy to focus on its core enterprise business.
"We recognise and respect external parties' opinions on Blackberry's recent news," the company said in a statement. "However, many of the conclusions by Gartner about the potential impact of a sale or other strategic alternatives, are purely speculative."
Redundancies
Blackberry this month revealed that it would make half its workforce redundant by the end of the year, after losses of $950m (£588m) in the second quarter.
The struggling Canadian firm, which has been hit hard by declining handset sales, has agreed in principle to be bought by a private consortium led by investor Fairfax Financial.
Blackberry products are used by governments and large financial institutions around the world for secure communications.
Gartner, one of the world's major technology analyst firms, said in a report last week that Blackberry customers were becoming increasingly concerned about the company's prospects.
The technology consultancy said Blackberry's hardware group could be sold to a foreign government, "which may be unsettling for some clients".
Businesses have up to six months to make plans to switch from Blackberry to alternatives, Gartner said in its report.
Organisations should move completely away from Blackberry or phase out Blackberry handset use for everyone apart from executives, Gartner recommended.