Microsoft boss Steve Ballmer dances at tearful send-off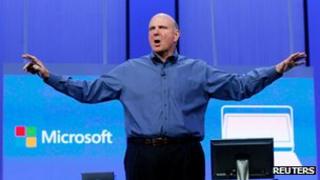 Departing Microsoft boss Steve Ballmer has hosted his last company meeting - bidding a tearful farewell to employees he has worked with for 33 years.
The 57-year-old danced to Michael Jackson's Wanna Be Startin' Somethin', and declared that the company would "change the world again".
More than 13,000 Microsoft employees had queued to be a part of the annual company-wide event.
The firm has not yet announced a replacement chief executive.
Mr Ballmer will retire within the next year and will leave the company in a strategically precarious position as it looks to claw back lost ground in the mobile sector.
While at the helm, he became known for his vigorous and enthusiastic presentations in which he would routinely declare his love for Microsoft and its products.
Dirty Dancing
Microsoft staff took to social media to share details of Mr Ballmer's last appearance as boss at the event described as being more like a "rock concert".
It was held at the 17,000-capacity Key Arena in Seattle, a venue usually used for basketball and ice hockey.
Service engineer Bob Ulrich posted a picture on Twitter of the snaking queue outside the building.
He added: "Must be the year to go to the @Microsoft company meeting. Insane line."
Charles Naut, a project manager at the company, posted an image of the "very moving" speech on Instagram - it showed Mr Ballmer ending his talk by saying, "I've had the time of my life!" as the famous Dirty Dancing song was played out in the arena.
Too slow
The Verge reported that Mr Ballmer had tears streaming down his face as he made his last remarks, telling employees: "We have unbelievable potential in front of us, we have an unbelievable destiny. Only our company and a handful of others are poised to write the future.
"We're going to think big, we're going to bet big."
He took aim at some of the company's rivals, calling Apple "fashionable" and Amazon "cheap". He said Google was focused on "knowing more", while Microsoft was about "doing more".
But it is those rivals that piled the pressure on Mr Ballmer to depart. In one recent meeting with Wall Street investors and analysts, he admitted the company had been too slow expanding into the smartphone market.
"I regret that there was a period in the early 2000s when we were so focused on what we had to do around Windows that we weren't able to redeploy talent to the new device called the phone," Mr Ballmer said.
"That is the thing I regret the most. It would have been better for Windows and our success in other foreign factors."