Nairobi attack: Why are UK forensic experts in Kenya?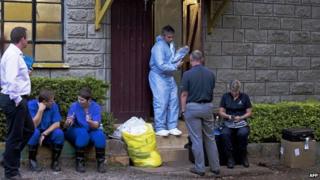 Britain is one of five nations to send forensic experts to help comb through debris after the deadly four-day Nairobi siege at the Westgate shopping complex.
Five Britons have been confirmed among the fatalities - at least 67 people are known to have died and it is thought more bodies may yet be found inside the complex.
Why has Britain sent its forensic experts and what are they likely to be doing?
According to the Foreign and Commonwealth Office, the team - sent by the Metropolitan Police - is there at the request of the Kenyan authorities who took up UK Prime Minister David Cameron's offer of assistance.
Members arrived in the Kenyan capital on 23 September - two days after the siege began.
Their mission is to support the British High Commissioner in Nairobi, identifying British victims, but also to perform an important advisory role - helping the Kenyan authorities.
Their work will also be used to help coroners in the UK carry out the necessary inquests into the British deaths.
'Major homicides'
While the Kenyan authorities are leading the investigation, the British experts - having built up a wealth of experience - are well placed to help with the difficult task of identifying those who have died.
Karen Squibb-Williams, director of communication and in-house counsel for the Forensic Science Society, says: "The experts who have been sent to Kenya will most probably be crime scene managers who are used to attending scenes of major homicides on a regular basis.
"In the wake of the experience of 9/11, and to some extent as a result of the 7/7 bombing in London, the UK has developed considerable skills in assisting with violent incidents.
"In particular we played an enormous part in helping with the aftermath of identification challenges after the tsunami."
She says the UK police and forensic scientists working in tandem now have a "very strong capability" in what is known as disaster victim identification.
"This could include setting up temporary mortuaries and, if necessary accessing dental records as well as, where appropriate, having effective processes to access information efficiently," she adds.
"DNA analysis is also, of course, a forensic field in which the UK has a particularly strong reputation for capability and innovation."
While the number of different countries now involved in the forensic efforts in Nairobi may lead to tensions as each attempts to follow its own working practices and protocols, they will all be keen to co-operate and help to identify the victims as efficiently as possible.
Teams from the US, Canada, Israel and Germany are now working alongside international agency Interpol.
Ms Squibb-Williams says she is pleased the UK is using its expertise "in such a collaborative way".
"For those countries involved it is not just about their own citizens," she says. "There will always be an overarching international context to consider."
Somali Islamist group Al-Shabab - which has imposed a brutal version of Sharia law in the areas of the country it controls - has claimed responsibility for the attack.
British authorities are keen to stress efforts to find out what happened are Kenyan-led. But the UK experts might also be able to assist with the investigation into the attack itself, should the Kenyans require it.
The UK has played a prominent role in international efforts to help stabilise Somalia, hosting a major conference on the country in May.
Mentions of the Horn of Africa nation often come attached with the words "failed state". It has been ravaged by internal conflicts, border disputes and been without effective government for almost a quarter of a century.
Disputed Somali-inhabited territories have led to uneasy relations with its neighbours - Kenya being one of them.
Al-Shabab cite the presence of 4,000 Kenyan troops in the country as justification for the attack.
And there has been speculation the Islamists who attacked the Westgate mall with such deadly results counted international fighters - including UK nationals - among its ranks.
One of them is Samantha Lewthwaite, widow of one of the 7/7 London suicide bombers. At Kenya's request Interpol issued an arrest notice for her on Thursday - on separate terror offences.
Al-Shabab insists no women took part in the Westgate attack.
While the nationalities of the attackers have not been confirmed, the FCO say this is something forensic experts in the country were working to ascertain.
The Met already had a team of officers stationed in Nairobi, charged with the ongoing task of aiding law enforcement.
And the UK is keen to support Kenya, which it sees as a major partner.
"We will do anything we can to help bring those responsible to justice," a Foreign Office spokesman says.
"Kenya is a Commonwealth country with which we have a strong relationship. Of course we are interested in helping in the aftermath of this tragic incident, in which British nationals have been caught up."