Evernote app and Post-it notes form partnership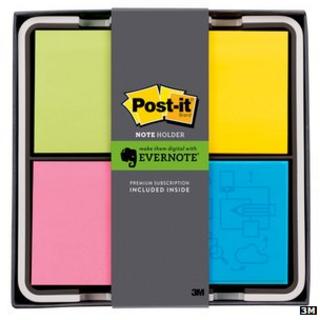 Memory aid app Evernote is partnering with 3M to help consumers search their Post-it note scribblings on the go.
3M will advertise its sticky notes as being "searchable and shareable" when photographed by the program. In addition it will sell special packs offering access to the app's premium features for up to three months.
Evernote previously struck a similar deal with notebook maker Moleskine.
Analysts said it was part of a wider trend to digitise traditional products.
While Moleskine owners have to buy special notebooks and use stickers to tag their handwriting and sketches - making it easier to locate the digital copies later - the Post-it deal works with normal notes.
It takes advantage of Evernote's existing ability to photograph and apply handwriting recognition to objects, but now arranges the notes according to their paper's colour.
So, for instance, yellow ones can be used to categorise work tasks and green ones shopping lists.
The software firm's chief executive, Phil Libin, told the Wall Street Journal the app would also be likely to work with sticky-notes made by other companies.
Branding deals
California-based Evernote has about 75 million users, up from 50 million in March.
It competes with Microsoft's OneNote and Google Keep, as well as smaller rivals such as Springpad and Catch.
To help make its brand stand out, Evernote has pursued a strategy of links with other firms.
Other examples include a deal to have its software pre-installed into cameras, phones, tablets and even smart fridges made by Samsung.
In addition it has partnered with smart pen maker Livescribe so that notes and audio recordings made by the product automatically upload to a user's Evernote account.
One expert said the latest move was part of a wider trend to try to apply technology to products that pre-dated smart devices.
"It's a perfect example of a traditional paper approach being digitised," said Thomas Husson, an analyst at tech advisors Forrester.
"Evernote had already done something similar with its Hello app which takes a picture of a business card, and it's magically tagged and placed in your address book.
"At the end of the day it doesn't matter whether it's paper, shoes, fridges or what have you - there has to be a digital component for even traditional physical products."
However, one retail consultant added that the success of this latest venture might depend on whether Evernote could persuade businesses - the biggest purchasers of Post-its - to spend time and money training staff to use the software.
"The challenge will be to convince them this is more efficient," said Bryan Roberts from the Kantar Retail consultancy.
"With lots of these things you run the risk of trying to reinvent the wheel when the wheel is already doing a good job, and trying to push technology into corners where it might not belong.
"But if it can show it can save an employer thousands of manpower hours a year and deliver cost savings then that becomes a compelling innovation."
Apple app backlash
The latest announcement is timed to coincide with Evernote's annual developers' conference in San Francisco, but also comes at a time when the firm is facing a backlash against changes to its iPhone app.
A redesign carried out to take advantage of the new look iOS7 operating system is proving unpopular with some.
The app's rating has fallen to two-and-a-half stars out of five in the UK App Store and has similar low scores in other markets. By contrast, the Android version, which has not been changed, has a 4.7-out-of-five star rating in the UK version of Google's Play marketplace.
"The old design for this was clean and unfussy. The new one is messy and unclear," wrote one iPhone user.
"Textured green background is dreadful for readability on a small screen," wrote another.
Some also complained of freezes and crashes, although others praised the new look calling it "beautiful".
The firm's European spokeswoman said more details about the Post-it deal would be revealed later but did not provide additional comment.