Amazon's Kindle HDX tablets get remote Mayday help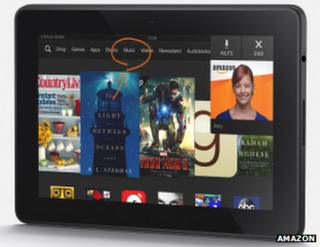 Amazon's latest tablets will include the ability to call up round-the-clock tech support via a video box at the press of a button.
The Kindle Fire HDX's Mayday feature will allow one of the firm's employees to explain how to work the machine or take control if necessary.
There is no additional cost involved.
One analyst said the facility should help Amazon to stand out from other tablets, including Google's Nexus and Apple's iPad.
"The new Mayday feature is a clever way to reach out to new tablet users," said Thomas Husson, principal analyst at tech advisers Forrester.
"Coupled with an affordable price for the lower-end Kindle Fire HD and new entertainment content and features, Amazon is clearly willing to appeal to the masses."
In addition to Mayday, Amazon is also introducing the ability to download selected movies and TV shows from its Prime Instant Video so that they can be viewed when the user does not have an internet connection. Rival on-demand services Netflix and Hulu do not offer this facility.
While the new features should help Amazon attract new customers, one expert warned that some might have security concerns about the firm building in software that allowed a third party to take over the tablet.
"With any device that has any kind of remote access on it, there is always going to be that risk that it could be either hacked or abused," said Chris Green, from the Davies Murphy Group consultancy.
"But it's such a small danger that the benefits outweigh the risks, and the average consumer or business user shouldn't be put off from storing useful information because they fear it could be compromised."
Amazon has said that the Mayday feature can be disabled and stressed that it is a one-way video feed, so that the adviser cannot see the tablet owner.
The firm has not revealed how many assistants it had employed, but said it was aiming for a response time of 15 seconds or less. Chief executive Jeff Bezos added that it would be "ready for Christmas morning" - likely to be one of the busiest days.
Mr Bezos previously told the BBC that his company sold its Kindle devices at cost, but one industry-watcher said investing in pop-up advisers still made financial sense.
"Amazon's strategy has always been not to make profits from hardware sales but from selling content on those devices," said Nitin Bhas from Juniper Research, a consultancy.
"Adding round-the-clock tech support is a winning strategy but a long-term one and provides Amazon with a platform to expand further."
Upgraded system
Amazon also announced it was introducing the third version of its Fire operating system, codenamed Mojito.
The OS is a variant of Google's Android system, but is designed to highlight recently downloaded items on the home screen as well as other Amazon-specific services.
These include:
X-Ray ,which offers access to synchronised lyrics for songs, details of music played during films, and background information about characters in books
Whispersync, which keeps content on the tablet synchronised with other Amazon products owned by the same user
Hardware-enhanced data encryption, which it markets as a facility to encourage sales to business customers
The new Mayday button
The US firm said that developers would be able to offer software already developed for Google's system with "little to no [additional] work".
But experts warn there may still be snags.
"We know there have been some instances of compatibility problems with apps that wouldn't run on the existing Kindle Fire devices because they were taking advantage of functionality and shortcuts that are in the standard Google build that weren't present or were broken in the Amazon version," said Mr Green.
"It sounds like Amazon has tried to do its best to mitigate the number of instances where this is likely to occur, but the simple fact is that the Android software has forked.
"There will still be issues where applications written for 'normal' Android will be expecting features, functions and more importantly other apps to be on the system that are simply not there and that is going to cause some issues."
The Kindle HDX - which comes with either a 7in (17.8cm) or 8.9in (22.6cm) display - will be released in the US on 18 October.
It is powered by Qualcomm's Snapdragon 800 quad-core processor, which Amazon said was three times as powerful as the Texas Instruments chip in its earlier model.
It will cost between $229 (£143) and $579 (£362) depending on the amount of storage, screen size and whether or not a 4G data chip is included.
Amazon has not announced when it will become available in other markets.