Blackberry's 'bring your own' blues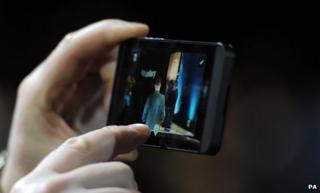 Five years ago, Blackberry was one of the hottest technology companies around, with a market capitalisation of over $50bn, and apparently unchallenged in the business of supplying serious smartphones to serious businesses.
So what went wrong? The answer seems obvious - the iPhone arrived, and Blackberry was too slow to see what its impact would be. Mike Lazaridis was then co-CEO of Research in Motion - a slightly unlikely corporate set-up which worked very well for many years - and was asked in 2007 about the threat from Apple's phone: "How much presence does Apple have in business? It's vanishingly small," was his reaction, and he was dismissive of the idea that anyone would want a phone without a keyboard.
But he was far from alone in his complacency - there are plenty of quotes from Microsoft and Nokia executives who also failed to grasp the extent to which their world had changed.
And those far-sighted Wall Street analysts also did not spot the impending apocalypse. After all, the peak in the shares came in the summer of 2008, 18 months after Steve Jobs unveiled the iPhone. Even late in 2010, you can find references to a few analysts predicting an upturn, as Blackberry prepared to launch its tablet, the Playbook.
Back then, with the "crackberry" still by far the favourite tool of corporate road warriors from New York to New Delhi, the company and its supporters could have been forgiven for being fairly relaxed. After all, iPhones and Androids might be catching the eye of flighty consumers, but businesses were not going to change from their secure and reliable if slightly dull Blackberries in a hurry.
But there was another revolution sweeping through the corporate world, with a rather unlikely battle-cry, BYOD - Bring Your Own Device. The IT managers in companies had been used to dictating to their staff exactly which computers and mobile phones they would use - and how they would use them. But people who had grown used to a more exciting mobile internet experience than a locked-down Blackberry with no apps could provide.
They demanded change and choice - and the corporate IT managers were forced to submit. Blackberry began to see its grip loosened in the law firms, the government offices and even the Wall Street banks where it once reigned supreme. Yes, there was a brief period when it was the phone of choice amongst young Britons, but that was never going to be a profitable business.
It is easy with hindsight to see where things went wrong, much harder to say what Blackberry could have done about it. After all, Blackberry's customers loved its products and most were adamant that they wanted a physical keyboard, not some flaky touch screen device. Antagonising your existing market and going off in search of different customers would always have been a very risky strategy.
Research in Motion was one of the world's most innovative companies, its research driven by Mike Lazaridis, a man who has invested large sums of his own money in blue-skies research into theoretical physics. The Blackberry was the first device to make the internet - or at least email - truly mobile.
But that was in a world where employers decided the direction of the technology we use - now a workers' revolution has changed all that. From now on, we will decide the shape of the tools that are essential to our lives, at home and in the office. The Blackberry story is entering its final chapter - at least as a public company. The $4.7bn planned sale to its biggest shareholder means the conclusion to this sorry tale is likely to take place in private, far from the relentless gaze of the Wall Street analysts.