Microsoft too slow on phones, admits boss Steve Ballmer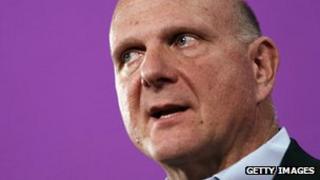 Microsoft boss Steve Ballmer, who has announced he will be stepping down, admitted his company was too slow to react to the smartphone era.
The chief executive was talking to an audience of Wall Street investors and analysts.
He blamed a focus on developing its Windows operating system for letting mobile opportunities slip by.
However, he said the company now has significant opportunities in the market.
The firm has recently purchased the mobile phone unit of Nokia, a move that will allow it to speed up development on its Windows Phone platform.
The market is currently dominated by products from Apple, with its iPhone and iPad, and Google's Android platform which is used by many manufacturers such as Samsung and LG to power their devices.
Microsoft, by comparison, is a very distant third.
Surface tension
"I regret that there was a period in the early 2000s when we were so focused on what we had to do around Windows that we weren't able to redeploy talent to the new device called the phone," Mr Ballmer said.
"That is the thing I regret the most. It would have been better for Windows and our success in other foreign factors."
On the plus side, Mr Ballmer said, from the Windows Phone's "almost no share" position the only way was up.
On Monday, the company will unveil the second generation of its Surface tablet.
The first Surface, released in October 2012, has sold poorly.
In July the company said it had written off $900m (£560m) in unsold Surface stock.
Mr Ballmer admitted at the time: "We built a few more devices than we could sell."
It was widely speculated that the failure accelerated Mr Ballmer's departure from the company, which will happen within 12 months. A successor has not yet been announced.