Diablo 3 auction houses are doomed by developer Blizzard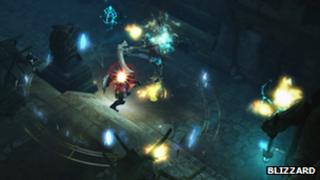 Video game Diablo 3 is to ditch its auction houses after its developer acknowledged the facility "undermines" gameplay.
Players are currently able to buy and sell weapons, armour and other virtual items to each other using either real-world cash or in-game gold.
Blizzard took a cut of any transactions involving real-world money, offering it an extra source of income.
But it has now acknowledged that the facility "short-circuited" the title.
It follows complaints from gamers that the auction houses made the game less satisfying to play as they undermined the challenge of the battle to defeat Diablo, the "lord of terror".
The company said that the auction houses would be removed on 18 March 2014, giving users a chance to adjust.
"We firmly believe that by shutting down the real-money and the gold auction houses, it really paves the way to make sure that killing monsters in-game is the most rewarding, the most satisfying, the most compelling way of getting your hands on those items," said Josh Mosqueira, Diablo 3's game director.
Although the move may please many, it is has caused controversy with some as it effectively makes their virtual possessions worthless outside the game's horror-themed fantasy environment.
"You might as well be robbing us," wrote one user on the company's forums.
"I have accumulated about $100 [£62] on the real-money auction house... if you allowed me to transfer it to Paypal even, that would be something, but you basically just ripped off every successful player on your game."
'Glacial speed'
Although people had long traded other games' items with each other ahead of Diablo 3's launch, these transactions had typically been private affairs arranged outside of a game-world, sometimes in breach of the rules.
Blizzard itself had banned players of another game - World of Warcraft - from buying and selling gear outside the title.
Diablo 3 marked a change of strategy. UK users, for instance, now faced a £1 fee for each item sold in the real-money auctions and 15% charge of the final sale price for in-game commodities including "gold", which itself could be used to make purchases.
Bearing in mind Diablo 3 proved to be the fastest ever selling PC game in the weeks after its launch, it offered a potentially lucrative way for the company to continue making money after players had bought the subscription-free title.
"Blizzard were leading the way with the real-money auction house, designed to take what was being done in a grey economy and making it legitimate, and indeed profitable," John Walker, editor of PC gaming site Rock, Paper, Shotgun told the BBC.
"They just did it in the wrong game. The very purpose of Diablo is to run around killing stuff and having them then drop new weapons and new equipment which allows you to kill more creatures, letting you gather better items - creating a cycle which drives you to carry on.
"There's no doubt that what went wrong was always going to go wrong, and at its glacial speed Blizzard have acknowledged this."
Despite the firm's U-turn another industry watcher said it would not spell the end for real-money auction houses.
"This is not a condemnation of the model itself but rather its implementation," said Ed Barton, director of digital media at the consultancy Strategy Analytics.
"Diablo the game itself obviously went through two previous iterations where it didn't have an auction house and was not designed with the assumption that one would exist as a additional revenue stream for the developer.
"For success at charging for this type of transaction between users, that has to be baked into the design from the moment the initial game design document is drawn up."