4G signal problems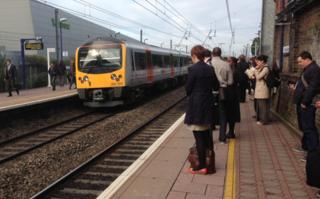 Regular readers will know that I have an obsession with seamless connectivity - and in particular with mobile broadband. Well, I have good news and bad news.
The good news is that 4G has reached the leafy London suburb where I live.
The bad news is that the revolution in connectivity it promised for those here and in other parts of the UK where mobile coverage is patchy may prove a disappointment.
My regular commute involves a short walk to a nearby station. And on most days, my phone tells me as I hurry along that my connection is not 3G but Edge, making it virtually impossible to use an app to check that my train is running on time.
In recent days I've been using a borrowed 4G handset on my same network, alongside my regular phone.
But because the 4G network had not yet rolled out this far, I was still only getting Edge coverage. Until Tuesday.
Seeing the 4G symbol popping up on the phone as I waited for my train, I ran a speed test - and got an amazing result. Download at 44Mbps, upload at 10Mbps - speeds that would make many fixed broadband users weep with envy.
Then I checked my regular 3G phone - surely the 4G upgrade to my local mast would have benefits for all those people who haven't upgraded their phones yet?
Err, no - in the exact same spot, my test revealed I was still crawling along at Edge speed.
Now whenever I write about 4G I get lots of messages from people saying they would rather the networks spent their money delivering 3G to rural areas - and some city not-spots.
I reply that the whole idea behind 4G is that it will provide extra capacity for everyone, improving basic connectivity in the countryside as well as giving lightning speeds in towns.
Now I'm wondering just how true that is. For instance, EE seems to be doing a pretty good job of rolling out its 4G network, but I've heard complaints from a couple of customers that its 3G coverage is getting worse as a result.
Perhaps the truth is that only customers who buy new 4G phones and sign up to new contracts will see any improvement in their connections in the short-term. Which means that the whole upgrade to the UK's mobile connectivity could take rather a long time.
Meanwhile, I tried my new phone at the station again this morning - and the 4G network had evaporated, with the speed test reading 0. And then my train was delayed.
Ah well, the future will be along in a minute.