Facebook apologies for dating ad showing Rehtaeh Parsons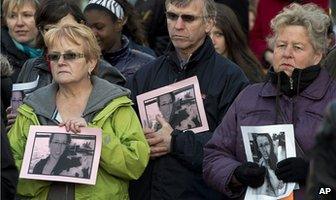 Facebook has apologised for publishing a dating ad featuring a photo of a 17-year-old who had killed herself after complaining of being cyber-bullied.
Canadian Rehtaeh Parsons took her own life in April having been severely bullied after a separate photo, showing her alleged rape by four boys, was circulated online, her mother has said.
Her father said on Wednesday that he had been "disgusted" by the advert.
Facebook said it had banned the company involved from the social network.
"This is an extremely unfortunate example of an advertiser scraping an image from the internet and using it in their ad campaign," a spokesman said.
"This is a gross violation of our ad policies and we have removed the ad and permanently deleted the advertiser's account.
"We apologise for any harm this caused."
The advert had used the title "Find Love in Canada!" and referred users to ionechat.com.
That website is no longer online and its owner could not be reached for comment.
According to Rehtaeh's mother, Leah, the Nova Scotia-based teenager had attended a party two years earlier where she had got drunk and been raped.
And a photo of the incident had subsequently been circulated online.
"People harassed her, boys she didn't know started texting her and Facebooking asking her to have sex with them since she had had sex with their friends. It just never stopped," Mrs Parsons told CBC News in April.
Two 18-year-old men have since appeared in court charged with child pornography offences. They are expected to enter pleas on 19 September.
Ms Parsons's father was alerted to the advert earlier this week and posted a message to his blog to express his anger.
"I am completely bewildered and disgusted by this," wrote Glen Canning in a message titled "Possibly the worst Facebook ad ever".
"This is my daughter, Rehtaeh. They have her in an ad for meeting singles. I don't even know what to say."
Nova Scotia's government passed a law following Ms Parsons's death, creating a police unit dedicated to pursuing cyber-bullies. The government expects it to become active before the end of the year.
Related Internet Links
The BBC is not responsible for the content of external sites.