NFL's Brian Holloway seeks teenage vandals via Twitter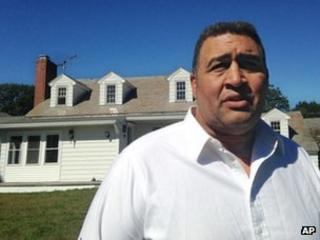 Teenage party-goers who vandalised a former American football player's New York home and caused $20,000 (£12,500) of damage are being sought via Twitter.
Brian Holloway has used about 170 tweets sent during the impromptu party to compile a list of 220 names, which he intends to give to the police.
He initially thought the tweets were a hoax until he saw pictures of them dancing on his dining table.
Mr Holloway was at his other home in Florida at the time.
"We were getting eyewitness reports of what was happening while it was happening. We couldn't believe what was going down," Mr Holloway, who played for the Oakland Raiders and, in Superbowl XX, for the New England Patriots, said.
Police, who eventually managed to break up the party, say up to 300 people attended the party, during which walls were sprayed with graffiti, doors and windows were broken, holes were punched in walls and beer kegs were dragged across oak floors.
Mr Holloway estimated the repair bill would top $20,000, not including the cost of replacing the many items that were stolen.
He added he planned to invite the partygoers to help him clear up the 200-acre property prior to a forthcoming picnic he was planning for soldiers.
"We need to get these young kids turned around," he said "We need to get them on the right track."