Wave power generator bags Dyson award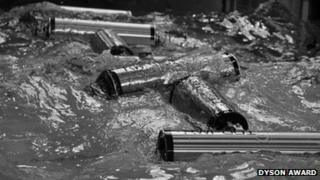 A wave power generator that can harvest energy no matter which way the sea is running has won the UK round of James Dyson's engineering award.
The Renewable Wave Power generator seeks to overcome the limitations of some current wave power technologies.
These work best when struck by waves travelling in one direction and are less efficient in more turbulent seas.
The generator uses loosely coupled pistons to reap power from tidal waters that flow unpredictably.
British sea power
The win means that Sam Etherington, who created the generator, gets £2,000 to create a bigger prototype that will undergo tests in water tanks to prove its efficacy.
The engineering graduate studied mechanical design at Brunel University in London, and now lives in the Lake District.
Mr Etherington said some of the inspiration for the design came when he was kite surfing off the coast of Cumbria in seas where waves rarely travelled in a predictable fashion.
To harness the energy that abounds in such restless waters, Mr Etherington came up with a design that uses a long chain of loosely linked enclosed pistons. Energy is generated as the chain of generators flexes in the peaks and troughs of each wave.
"The ocean is a harsh and unpredictable environment," said Mr Etherington. "It is better to work with the forces than to repel them."
He added that the hard part of the development work was finding ways to replicate the chaotic seas that the generator can make best use of. Data taken from buoys moored in the Orkney Islands was used to make waves in a water tank at Lancaster University and prove the prototypes could generate power in such conditions.
Dr David Forehand from the Institute for Energy Systems at Edinburgh said existing tidal and wave power systems used different methods to cope with the ways water can move.
Systems sited in shallow waters benefitted from the fact that waves "refract" as they approached the shore, he said. This meant the wave crests tended to line up parallel to the shore before they break, making it straightforward to harvest some of their energy.
Expensive
By contrast deeper water systems, such as the Pelamis pipe generators, tended to be "loosely moored" so they can swing into the direction of dominant waves.
He added that seas can sometimes have a number of dominant wave directions and Mr Etherington's multi-axis device might be good for such situations.
"The real test for a device is its cost of energy," Dr Forehand said, adding that the complexity of the multi-axis device and its ability to withstand large seas might make it an expensive way to generate power.
The cash award will allow Mr Etherington to conduct more tests and enrol his device in European trials for fledgling tidal power systems.
Mr Etherington's project was one of 63 in the UK selected by the judges on the James Dyson panel to compete for the UK prize.
His project now goes through to the international final where a cash prize of £30,000 is up for grabs.
For this year's competition, engineers in 18 countries have submitted more than 650 entries.