UK games developer Blitz Games Studios shuts down
By Dave Lee
Technology reporter, BBC News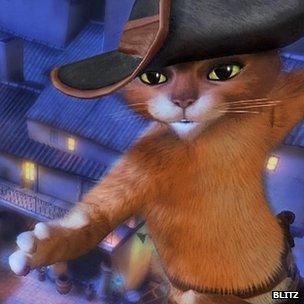 Blitz Games Studios, a major video games maker based in Leamington Spa, has shut down.
The firm had been creating games for 23 years, and employed 175 people - 50 of whom will be kept on to work on current unfinished projects.
Company co-founder Philip Oliver said the business was unsustainable and had been struggling for several years.
"Nobody is angry," he told the BBC, "everybody's just very sad. We have tried everything."
Blitz is known for many popular titles, including high profile tie-ins such as Shrek, Spongebob Squarepants and Mickey Mouse.
The company was set up in 1990 by twins Philip and Andrew Oliver. The pair also worked closely, mostly during the 1980s, with games publisher Codemasters.
But Philip Oliver said the disruptive influence of the mobile games market - where titles are much cheaper or even free - has had a serious negative impact on their revenue.
"The budgets for games has fallen dramatically," he said.
He also said companies such as Microsoft and Sony had taken too long to bring out their next generation games consoles, a major cash boost for developers as gamers are eager to stock up their new hardware.
Another major contributor to the company's downfall had been a reluctance for some of its publishing clients - who also face tight financial pressures - to commit money to long-term projects, Mr Oliver said.
In a statement announcing Blitz's closure, Mr Oliver said: "Major clients have felt unable to commit to investment in significant projects, others have changed strategy whilst appearing committed, and others have been slow to commit at all - all of these things have continued to hurt our finances.
"We have also sustained the business for some time with our personal savings, but even those reserves have now been exhausted."
The closure in 2011 of one major client, US based published THQ, had hit the company especially hard, Mr Oliver added.
Blitz's demise has been described as a "bitter blow" to the UK games industry by Tiga, the trade association for video games makers.
"Blitz is an iconic British games studio," said Richard Wilson, the group's chairman.
"Philip and Andrew Oliver... have made an enormous contribution to the UK video games industry, having been involved in the sector since its beginnings in the 1980s.
Mr Wilson added: "It is vital that the government takes steps to support the growth of new studios by the provision of business incubators and by working with the [European] Commission to introduce games tax relief as speedily as possible."
Tiga has been calling for tax relief for games companies in the UK, a policy that would bring the UK's industry in line with countries such as Canada and France.
The government has said it plans to implement tax breaks, but it has been delayed by European Union regulators.
Despite the closure of Blitz, Mr Oliver has said he remains optimistic that the UK games industry can adapt and survive.
"There's a huge number of success stories in the UK," he told the BBC.
"It's not all doom and gloom."