Vodafone Germany hack hits two million customers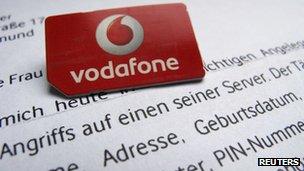 Personal details of more than two million customers of Vodafone Germany have been stolen by a hacker.
Vodafone said the attacker got access to customer names, addresses, bank account numbers and birth dates.
The trove of information was stolen from a database sitting on the company's internal network.
The operator said customers had been told about the breach and warned to watch out for "phishing" messages that try to extract more personal data.
"Vodafone deeply regrets the incident and apologises to all those affected," the operator said in a statement.
Vodafone said it did not think that the attacker got hold of enough information to plunder bank accounts because they failed to access phone numbers, credit card details, Pins and passwords.
The German subsidiary of Vodafone did not say when the attack took place but said it had been asked by police to delay notifying customers as an investigation got under way.
A suspect has now been identified and his home searched, said Vodafone, which meant it could now talk about the incident and inform the two million victims. In total, Vodafone Germany has about 36 million mobile customers.
"This attack could only be carried out with high criminal intent and insider knowledge and was launched deep inside the IT infrastructure of the company," said the operator.
Related Internet Links
The BBC is not responsible for the content of external sites.