Ofcom: Piracy accounts for one in four downloads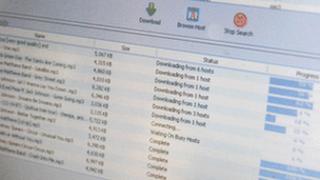 Almost a quarter of downloads in the UK infringe copyright, according to a study prepared for regulators.
Just 2% of UK internet users accounted for almost three-quarters of online piracy over a year, the report Ofcom indicated.
A small number of the most prolific pirates accessed "vast amounts" of infringing content, it said.
It also said pirates spent more on legal downloading and streaming than those who never access illegal content.
A small minority of UK internet users illegally downloaded and streamed music, films, games, TV programmes and computer software between May 2012 and May 2013, according to the study undertaken for Ofcom by Kantar Media.
The company processed 21,475 responses to four surveys over the year to research the report.
Films tended to be the most consumed type of pirated content - 35% of the total number of films viewed online infringed copyright.
A passion for particular music, films, games, TV programmes or computer software tended to be the driving force behind both the legal and illegal consumption of content.
Pirates were prolific consumers of legal digital content, on average spending £26 every three months compared with £16 spent by non-infringers.
The highest volume infringers tended to justify their actions by saying that they had already spent enough on content, and that legal content was too expensive.
The top 20% of infringers were more likely than other pirates to have streamed content outside of their home networks, or used mobile technology for illegal downloads, making enforcement complex, said the study.
Only a quarter of the people who consumed the most illegal content said they would stop if they thought they might be sued, and one in five said they would stop if they received a letter from their internet service provider (ISP) telling them that their account had been used for copyright infringement.