Viral 'twerk' clip revealed as fake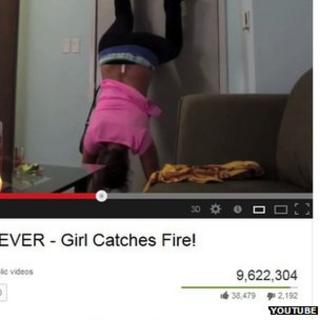 A video clip of a woman accidentally setting herself on fire while "twerking" has been revealed as a fake.
The video has racked up almost 10 million views on YouTube and has been widely shared via social media.
The clip was thought, like many others, to be inspired by the risque dance routine performed by Miley Cyrus at MTV's Video Music Awards last month.
However, it has now emerged that the clip was made for the late night US TV show hosted by Jimmy Kimmel.
The clip titled, Worst Twerk Fail EVER, was uploaded to YouTube by the talk show on 3 September. It is listed as being made by Caitlin Heller but actually features a stuntwoman named Daphne Avalon.
In the video, Ms Avalon "twerks" while doing a handstand against a door that is opened by a friend. This causes Ms Avalon to topple forwards and smash a glass table on which are several lit candles that appear to set her on fire.
The hoax was revealed on the 9 September edition of the Jimmy Kimmel Live! show. An extended version of the video was shown which ended with Mr Kimmel entering the room and using a fire extinguisher to put out the blaze.
During the show Mr Kimmel mocked the many news shows which had aired the clip assuming it to be real.
Ms Avalon also appeared on the show to explain her role and added that many people who knew her thought it was authentic, even though it was labelled with a pseudonym.
"'Thank you for helping us deceive the world and hopefully put an end to twerking forever," Mr Kimmel said to Ms Avalon.