Virgin Media pilots Netflix video-on-demand on Tivo
By Tom Espiner
Technology reporter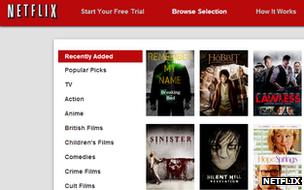 Virgin Media is to pilot Netflix's video-streaming service with 40,000 of its Tivo set-top box subscribers.
The cable firm will send letters this week inviting a selection of its UK customers to download and test the TV and movie on-demand app.
Those participating in the pilot will need a Netflix subscription to be able to view the content.
Virgin Media said it planned to roll out the app to all of its 1.7 million Tivo customers by the end of the year.
The BBC understands that Virgin may offer Netflix as part of a bundled service.
The tie-up could strengthen the position of both companies, according to one media analyst.
"It's a win-win situation," said Toby Syfret from Enders Analysis.
"It's a positive move for both, and should help them in any competitive tussles they've got."
Virgin Media would benefit from being able to offer a broader range of content, and Netflix would potentially gain a larger UK audience, suggested Mr Syfret.
Virgin's digital set-top competitors include Sky, BT and TalkTalk.
Netflix is up against established services such as Amazon's Lovefilm and Tesco's Blinkbox.
It also faces competition from a more recent entrant, Wuaki.tv. The new business is currently offering its service at half the price of Netflix's. It is owned by the Japanese e-commerce giant Rakuten which is best known in the UK for its ebook brand Kobo.
Virgin Media has previously shown its willingness to create a partnership with what might be seen as a competing service.
The company struck a deal in August to offer BT's sports channels to its cable customers.
Related Internet Links
The BBC is not responsible for the content of external sites.