Dyson sues Samsung over new vacuum's steering mechanism
By Leo Kelion
Technology reporter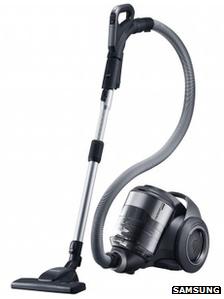 British manufacturer Dyson is suing Samsung over a vacuum cleaner which it says is a "rip-off" of its invention.
The dispute centres on Samsung's Motion Sync cleaner, which it showed off at the Ifa tech show in Berlin last week.
Dyson alleges that the machine infringes its patent on a steering mechanism for cylinder cleaners.
Samsung rejects its rival's "groundless" accusation, saying the product was the result of its own research and development.
"We will take all necessary measures, including legal actions, to protect our technological innovation against Dyson's groundless claims," said a spokeswoman.
Dyson said it had issued proceedings in the High Court in England, but has not said whether it wished to block the sale of Samsung's product or impose a licence fee.
"This looks like a cynical rip-off," said Sir James Dyson, the firm's founder.
"Samsung has many patent lawyers, so I find it hard not to believe that this is a deliberate or utterly reckless infringement of our patent.
"We have been forced to issue proceedings in the English High Court, but I would much rather invest in research to develop new technology than have to sue."
It describes a way to allow the device to spin quickly from one direction to another on the spot, and to follow the user's path rather than just being dragged behind, in order to prevent the vacuum getting snagged on corners.
It said the system took three years to develop and has since been used in two of its models.
Samsung's marketing materials for its new vacuum cleaner specifically highlight the "revolutionary" design of its swivel body machine saying it "makes swift motion for sudden turns much easier".
The firm rejected the idea that it achieved this by copying Dyson.
"The Samsung Motion Sync is an outcome of our own extensive research and development," added a spokeswoman.
This is not the first time the two firms have clashed in the UK courts.
In February 2009 a judge ordered Samsung to pay about £600,000 of Dyson's legal costs after the UK firm challenged its rival's attempt to patent a suction technology already used in its "triple-cyclone" cleaners.
Dyson has also sued Hoover, Vax and Bosch in the past to protect its technologies, with varying success.
Related Internet Links
The BBC is not responsible for the content of external sites.