Sony unveils 'casual' PlayStation Vita handheld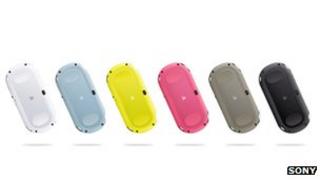 Sony has unveiled a new version of its PS Vita handheld gaming console.
Revealed at the Tokyo Game Show, Sony said the PCH 2000 series consoles were aimed at casual gamers.
The gadget is 20% thinner and 15% lighter than earlier models, is available in six different colours and has a battery life of about six hours.
The device goes on sale on 10 October in Japan. Sony has given no date for when it will be available in other countries.
The PS Vita 2000 has 1GB of memory and will be able to use the bigger 64GB memory cards Sony is making for it. All versions of the revamped gadget will communicate via wi-fi only.
The launch comes soon after Sony cut the US and European price of the original PS Vita in a bid to boost sales. The price of the handheld was cut in Japan in February. Sales of handheld games consoles have slumped as people play more and more games on their smartphones.
In addition, Sony also showed off a tiny set-top box called the PS Vita TV. The device can connect to a television so owners can play their Vita games on a bigger screen. It can also be used to stream games being played on a PlayStation 4 console to another TV.
The Vita TV console can also pipe streamed media services such as Hulu to a display.