Yahoo demands US government allow disclosure of data requests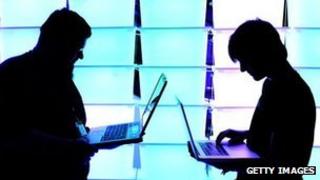 Yahoo has begun legal action demanding it be allowed to disclose details of US national security agencies' requests to access the personal data of its users.
The move comes a few days after Yahoo published its first transparency report, detailing the overall number of global government requests for data.
US law prohibits organisations from providing a breakdown of these figures.
Yahoo said withholding such information from the public "breeds mistrust and suspicion" about the US government.
The web company followed Google and Microsoft in releasing its first transparency report last week, detailing requests for users' data by 17 countries in which it has a legal entity.
The publication followed increased pressure by privacy groups for technology companies to disclose details of their collaboration with law enforcement agencies.
Yahoo had previously taken legal action to require the US government to publish documents over the next few months, which it said would show the company had objected to the establishment of Prism, a surveillance programme uncovered by whistleblower Edward Snowden.
Under the US government's Foreign Intelligence Surveillance Act (Fisa), companies are not allowed to publicly disclose details of requests via programs like Prism, unless the data is released in an aggregated fashion, mixed together with less sensitive information.
"The United States should lead the world when it comes to transparency, accountability, and respect of civil liberties and human rights," wrote Yahoo lawyer Ron Bell in a blog about the latest case.
"We filed the [law]suit today because we are not authorised at present to break out the number of requests, if any, that we receive for user data under specific national security statutes."
He added: "We believe that the US government's important responsibility to protect public safety can be carried out without precluding internet companies from sharing the number of national security requests they may receive."
US requests
Yahoo's transparency report revealed that 12,444 disclosure requests were made by the US between January and June of this year - by far the highest of all the countries detailed.
Only 2% of requests in the US were rejected. Although in a further 801 requests with which Yahoo complied, the company had found no data on the users in question.
The report, which Yahoo said would now be updated every six months, also said 1,709 disclosure requests had been made in the UK, although 27% of those had been rejected.
Google last published a transparency report in December 2012, which showed 8,438 applications from government officers and courts in the US over the last six months of 2012. It had 1,458 requests from UK officials in the same period.
Ron Bell blogged about the release of the report and emphasised the measures the company's legal department took to reject data requests whenever possible.
The highest number of rejected disclosure requests was in Germany, where Yahoo refused to disclose the details of 816 users. Singapore had the greatest percentage of refusals, with 41% of all requests denied.
The report does not include requests for data on users of Tumblr, a microblogging site recently acquired by Yahoo, although the company says details will be made available at a later date.