BBC iPlayer extends download service to Android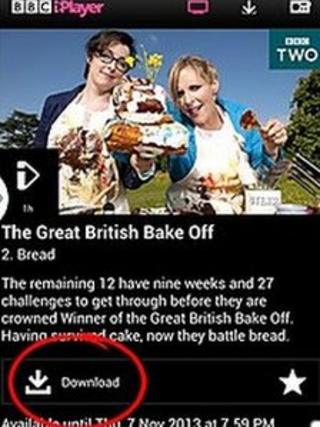 The BBC iPlayer's download service has become available to some Android users.
Users of compatible handsets and tablets with the Ice Cream Sandwich or Jelly Bean versions of the Google operating system can download shows.
Apple already offers the service, but there are no plans yet to launch it on Windows 8 or Blackberry 10 devices.
In the past, Android users have complained the BBC has shown a preference for developing content for the Apple operating system.
On Friday, a BBC spokesman said: "We have chosen the most popular devices, but we are always looking at the market.
"We are already testing other devices - it's not a finite list."
Once downloaded, shows were available for viewing for up to 30 days, which reduced to seven days after the play button was pressed, David Berlin, senior product manager for TV and iPlayer mobile applications at the BBC wrote in a blog post.
"Due to the unique characteristics of the Android platform, we have also been able to bring you the ability to download programmes while doing other things, which isn't currently possible on [Apple] iOS devices - so no need to keep the screen awake," he added.
The service would download high-quality versions of the video as a default, said Mr Berlin.
Speaking to the BBC in December 2012, Daniel Danker, head of iPlayer, told BBC technology correspondent Rory Cellan-Jones Android development was more labour-intensive.
"If you look at the amount of energy we spend on Apple, it pales in comparison to what we spend on Android," he said.
"It's not just fragmentation of the operating system - it is the sheer variety of devices.
"Before Ice Cream Sandwich... most Android devices lacked the ability to play high-quality video," Mr Danker added.
"If you used the same technology as we've always used for iPhone, you'd get stuttering or poor image quality.
"So we're having to develop a variety of approaches for Android."