Panasonic bows out of Japanese smartphone market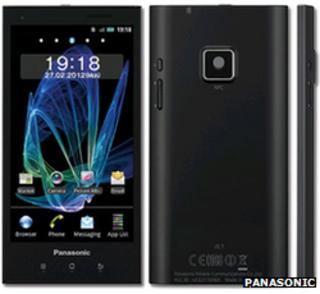 Panasonic said it is to stop selling smartphones to consumers in its home market Japan. It said it would also begin outsourcing production of mobiles sold to India and other countries.
The news had been expected after Japan's largest network said it would stop promoting the firm's devices.
NTT Docomo said it would instead focus its marketing efforts on phones from Sony and Samsung.
Panasonic said its mobile division had been set to make another loss.
The firm's president, Kazuhiro Tsuga, told Reuters the division was likely to lose more than the 1.1bn yen (£7m, $11m) across the financial year ending in March.
It had racked up an 8.1bn yen loss the previous year.
"It's not acceptable for the company to be bleeding red ink like this, so we have to think about ways to develop assets that we do have in a more effective direction," Mr Tsuga said.
It marks the second Japanese firm to pull out of the sector. NEC announced in July it would close its smartphone unit after talks to sell the division to China's Lenovo stalled.
In 2001 NEC and Panasonic were the two bestselling handset makers in Japan.