LG's G Pad and Acer's Liquid S2 phone revealed before Ifa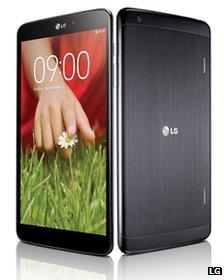 LG and Acer are both claiming "world firsts" with their latest product launches, revealed ahead of Berlin's Ifa tech show.
LG is returning to the tablet market with the G Pad, which the company is marketing as the only 8in (20cm)-class device to feature a "full-HD display".
Acer has announced the Liquid S2 , the first smartphone capable of recording video in the 4K "ultra-HD" format.
It allows the companies to get the jump on rivals in what will be a busy week.
Sony, Samsung, Panasonic, Lenovo, Toshiba, Philips and Dyson are among other companies to have scheduled press conferences between 4 and 11 September at the consumer electronics event in the German capital.
The 8.3in G Pad marks LG's return to the sector following its announcement in June 2012 that it was putting "tablet development on the back burner" in order to focus on smartphones.
The company has since improved its standing to become the world's third best-selling smartphone-maker after Samsung and Apple, according to tech analysis firm Gartner.
Its latest figures suggest LG sold 11.5 million handsets in the April-to-July quarter giving it a 5.1% market share.
LG hopes to replicate that success by launching an 8.3in tablet with a display featuring 273 pixels per inch (ppi), which is actually slightly higher than that needed to show 1080p video in full-quality.
The extra resolution should also make text sharper, although it also means the device's processor has to work harder to display all the pixels which will take its toll on battery life.
LG is also promoting the inclusion of its proprietary QPair app which allows the G Pad to be paired with other Android smartphones so that calls or messages can be handled via the tablet.
"LG's recent financial results have looked quite promising when it came to smartphone sales, but I think this particular tablet might struggle to match them for third place in the market," said Jas Badyal, an analyst at telecoms consultancy CCS Insight.
"Along with the iPad Mini and Amazon tablets there's also reports that Tesco plans a tablet of its own, so the firm even faces the worry of the supermarkets getting involved in the future."
Acer's Liquid S2 is able to shoot 4K video thanks to its inclusion of Qualcomm's new Snapdragon 800 processor.
But as the 6in-screen on the Taiwanese company's phone has a lower resolution, owners will need a 4K-television or alternative display to make the most of the format.
The extra processing horsepower does, however, mean that users can film video in 1080p at 60 frames per second allowing them to create a four-times slow-motion effect.
Other devices running off Qualcomm's chip - or alternatively Nvidia's rival Tegra 4 processor, which also supports the ultra-HD standard - may also be announced at Ifa, meaning the Liquid S2's unique status could be short-lived.
French company Archos has also opted to unveil its new devices ahead of the tech show.
Its new line-up includes the 80 Childpad - a tablet featuring an application which takes owners to a special version of Google's Play Store which only features programs that Archos' staff have judged to be suitable for a younger audience.
One industry watcher said the news did not mark a major leap forward.
"We are seeing a sort of steady iterative upgrade process to core components of the smart device experience whether that's around screens, photographic capabilities, audio or so on," Tony Cripps, principal analyst at the tech advisory firm Ovum, told the BBC.
"What we're not seeing is any kind of distinct move into something different in terms of the core user-experience.
"That's one of the reasons the industry is becoming increasingly interested in the idea of smartwatches and other accessories - that's where the more obvious differentiation can be made."
The Korea Times has quoted a Samsung executive as saying the firm would unveil its first Galaxy Gear smartwatch at Ifa, but that the device would not feature the flexible display shown in recent patent documents.
Related Internet Links
The BBC is not responsible for the content of external sites.