Vodafone and O2 begin limited roll-out of 4G networks
By Joe Miller
BBC News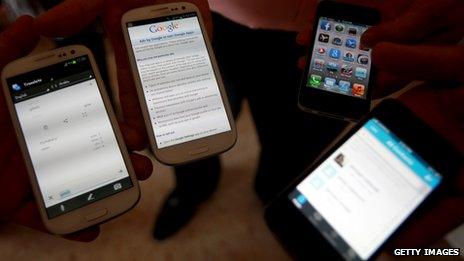 Mobile networks Vodafone and O2 are rolling out their first 4G data services in three UK cities.
The networks will compete against EE, which has been the only company to offer "super-fast" mobile data in the UK since October 2012.
Vodafone's 4G will initially be limited to parts of London, while O2 will launch in London, Leeds and Bradford.
One analyst said this indicated the networks were "soft-pedalling" 4G and the UK could lag behind other nations.
Fourth-generation networks can provide data to smartphone users up to 10 times faster than standard 3G connections.
The US, Japan, Australia and South Korea have all widely adopted 4G, but mobile phone users in many parts of the UK may have to wait until the end of 2015 for comprehensive coverage.
EE was the first UK network to offer a 4G service, and now covers 105 towns and cities.
The company's early 4G launch prompted protests by rival providers, which claimed it gave the firm an unfair advantage.
But Steven Hartley, principal analyst at telecoms consultancy Ovum, accused Vodafone and O2 of taking a "very conservative approach" to 4G, at the expense of consumers.
"The UK's mobile networks are hedging their bets with 4G," he told the BBC. "They are trying the same strategy they used when they rolled out 3G, which is to offer 4G as a premium service to consumers, in an effort to move them onto expensive phone tariffs."
Mr Hartley added that even EE "could have been more aggressive commercially" in their deployment of 4G.
A report earlier this month by industry regulator Ofcom found that UK consumers have a limited appetite for 4G, with almost a quarter of smartphone users saying they did not see the benefit of moving to the superfast network.
Three, the last major network to provide 4G, will launch its service in London, Birmingham and Manchester in December.
The company said it would offer 4G to its existing customers at no extra cost, and would offer unlimited data packages, although full details of the roll-out beyond the three cities are still to be announced.
The race to provide 4G services has been ongoing since October 2012, when Ofcom, the industry regulator, allowed EE to re-license some of its existing bandwidth to provide 4G.
After an auction in February, Ofcom sold spectrum space to O2, Vodafone, Three and BT.
The key difference between the 4G providers is the spectrum bands they bought for their services.
Bands on the lower end of the spectrum offer further-reaching signals, but can support fewer individual data users, whereas higher spectrum bands can deliver data to more people data but have a shorter reach.
There are three spectrum bandwidths available to networks looking to provide 4G services:
The 800MHz band previously used for TV signals. This low frequency spectrum is best for providing long-distance 4G services, helping give access to the countryside, as well as offering superior indoor coverage.
The 1.8GHz band, previously used for 2G and 3G networks, but can be reassigned for 4G.
The 2.6GHz band, which had previously been used by operators of cord-free video cameras to send back footage of live events, including London's Olympic Games. The high frequency can deliver faster speeds across smaller distances, making it best suited for densely populated cities.
EE built its 4G network by re-appropriating some of the 1.8GHz spectrum bandwidth previously used for its 2G and 3G services. It has since bought space on both the 800Mhz and 2.6Ghz bands.
Vodafone paid the most for its spectrum bands, buying part of the 800Mhz and 2.6GHz bands for just over £790m.
O2 paid £550m for part of the 800MHz spectrum and Three paid £225m for other parts of the same band.
Both Vodafone and O2 are offering added extras such as football highlights and streaming music to try and lure customers to their 4G contracts.
Stuart Orr, managing director of communications industry at Accenture, said these tactics showed 4G was not attractive enough as a standalone product.
"The move by Vodafone to package Sky Sports and Spotify in with its new 4G offering shows that operators know they have to demonstrate what new 4G services mean immediately for consumers and why they should pay more," he told the BBC.
All of the UK networks have pledged to widen their 4G offering within the next couple of years.
O2 said it would roll out 4G in a further 10 cities by the end of the year, while Vodafone plans to be in a further 12.
Three said its 4G would be available in 50 UK cities by the end of 2014.
Related Internet Links
The BBC is not responsible for the content of external sites.