Digital Indians: Sanjeev Bikhchandani's job site success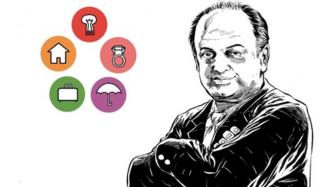 From his school days, Sanjeev Bikhchandani was clear that he would not want a job. Which is ironic, for a man responsible for helping more than a million Indians find jobs.
Now he is India's most successful digital entrepreneur, running the country's top job site, which has inspired the way other sites work. He says it was, in the end, about the choices he made.
He got into India's top engineering school, and turned it down for economics at Delhi's St Stephen's College because "it was a shorter course".
After business school, he joined a multinational company. Two years later, when he got comfortable there, he quit.
His government-doctor father, a middle-class neighbourhood, a public-school education, all prepared him for a job. Instead, he set up a business from a dining-room table, before moving his office to a servant quarter.
Today, Info Edge is the most profitable web business in the country. With 2,500 employees, it runs India's top job site, Naukri (which means "job" in Hindi), and other websites spanning real estate, matrimony, and education. His 34% share gives him a net worth of more than 11bn rupees (£109m; $174m).
Mr Bikhchandani says successful businesses are "based on deep customer insight". Working at that multinational, he'd seen colleagues reading business magazines back to front. "There were 40 pages of job ads at the back," he says. "Job ads were hotter than news or features."
That insight was still with him when he stumbled upon the internet at a trade show in Delhi in 1996.
"I saw a tiny stall with the sign 'WWW'. I was intrigued. The man there said: 'This is email'. I lost interest. Who would I send email to?"
That email reseller then showed him the internet. "He took me to Yahoo and searched for India. And I said, this is where I can put up job listings."
Naukri.com launched March 1997. Mr Bikhchandani's brother, a professor in California, pitched in with the $25 (£16)monthly fee for a web server.
The job site took off. From 240,000 rupees in first-year revenue, it jumped sevenfold next year. "We were onto something big," he says. "We stopped everything else and focused on Naukri."
The site would list jobs from newspapers. People began to apply to companies saying, "I saw your job on Naukri.com", and HR managers began to call. He would offer to put up new jobs for 350 rupees (£3.50; $5.55), or unlimited jobs in a year for 6,000 rupees (£60; $95). And they began to pay up.
Prudent working
Naukri ran in "boot-strap mode" for a few years, working with its own funds. "We were frugal," says Mr Bikhchandani. "Then in 1999 we began to get calls from investors saying, 'We want to give you money'. I was baffled."
At first, he declined. Then came competition, flush with venture funds. "Their launch ad campaign cost was twice our annual turnover. The game had changed. We could be wiped out. We went back to the investors." He got his venture capital two weeks before the big dotcom crash.
Info Edge made losses for two years after that. "That was planned. Then we broke even on a much higher turnover. We grew 30-fold in three years, and now we were making a profit." The company listed with an initial public offering in 2006.
Mr Bikhchandani convinced others to abandon multinational jobs and join him. "People come if they believe in you," he says.
Those believers included Hitesh Oberoi from Hindustan Lever, now Naukri's chief executive officer. Mr Bikhchandani has stepped aside to turn to his first love, start-ups.
"I'm not a big-company guy," he says. "I've been able to finally get back to working with start-ups. I enjoy talking with young entrepreneurs. They have fresh ideas and are often smarter than me, so I learn stuff from them. Sometimes, I can help them."
Outside Info Edge, Mr Bikhchandani is busy with Ashoka University, a not-for-profit venture co-founded by 10 entrepreneurs. Ashoka offers a four-year liberal-arts undergraduate programme on the American model, and the dream is big. "We want to build an institution that can be cloned, to transform college education in India," he says.
Fear of failure
At the end of the hour-long chat, I realise the word he's used most often is not among ones favoured by entrepreneurs: innovation, funding, growth. It's frugal.
India's top digital entrepreneur lives that word. He upgraded his old Opel Astra to a Honda Accord after years, and he sits in a compact, cosy office. Info Edge's eight-storey headquarters is big, but the flavour is frugal and functional.
He uses the word again when I ask him about failure. "Fear of failure is good," he says. "It keeps you on your toes, it makes you work harder to succeed. But if you fail, and you were frugal, you can start again."
And yet, through all his ups and downs, and his years without a salary, didn't he ever feel like quitting?
"Never," he says. "You're not a failed entrepreneur until you quit. As long as you have your hat in the ring, you haven't failed. You're just… not successful yet."