Government requests to Facebook outlined in report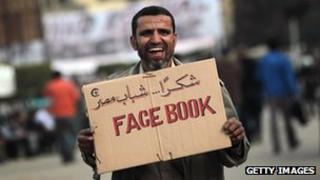 Governments around the world requested information on about 38,000 Facebook users in the first six months of 2013.
Facebook's Global Government Requests Report, released on Tuesday for the first time, offered details on official requests from 74 countries.
The US made by far the most requests, asking for information on between 20,000 and 21,000 users.
UK authorities requested Facebook hand over data on 2,337 users.
"We will continue to be aggressive advocates for greater disclosure," Facebook said.
"We hope this report will be useful to our users in the ongoing debate about the proper standards for government requests for user information in official investigations," wrote Facebook lawyer Colin Stretch.
"And while we view this compilation as an important first report - it will not be our last."
Unlike other countries, which had an exact figure, the US data was given as a range due to it being forbidden for companies to disclose how many requests they have had.
"In coming reports, we hope to be able to provide even more information about the requests we receive from law enforcement authorities," Mr Stretch added.
Compliance
The report covers the the first six months of 2013, ending 30 June, and is the first time Facebook has released data relating to these kind of requests.
The company said it hoped to publish similar reports every six months from now on, and hoped the report highlighted the "stringent processes" involved in the obtaining of user information.
The company did not give a break-down of why the requests were made, instead just dividing the data by country, outlining how many requests were made, and how many users were involved. Several users could be cited in one request.
Facebook also gave a percentage of how often the requests were successful.
In the UK, Facebook complied with 68%, while US authorities were successful 79% of the time.
Of particular interest were figures for countries affected by civil unrest.
In Turkey, 96 requests were made, covering 173 users, of which 45 were complied with - but the firm insisted this was for claims related to "child endangerment and emergency law enforcement".
No requests made by the Egyptian authorities were complied with, according to the report.
'Terrifying reality'
Rights group Privacy International welcomed the publication but had wider concerns.
"Given Facebook's ever-growing presence in the lives of people around the world, we commend them for releasing this report today - a release that has been a long time coming," it said.
"However, we are left with a disturbingly hollow feeling regarding Facebook's gesture, and it has little to do with Facebook itself.
"Since documents leaked by Edward Snowden have been published and analysed, the veil has been lifted on what information governments actually collect about us.
"We are now aware of a terrifying reality - that governments don't necessarily need intermediaries like Facebook, Google, and Microsoft to get our data."
Facebook said it remained committed to releasing more detailed data in future with regularity.
Follow Dave Lee on Twitter @DaveLeeBBC