Baidu launches app preview service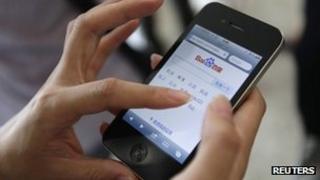 Chinese search engine Baidu has said it will allow people to preview mobile apps without needing to download them.
Baidu's free Light App platform will run other apps, giving users a chance to access them without having to install them first.
The service would help less well-known apps get more visibility, the firm said at its annual Baidu World event.
Analysts say the move can be seen as an effort by Baidu to expand its reach in China's mobile internet market.
"The traditional app store model has a fundamental flaw because it only benefits a few popular apps, while a huge number of small developers are finding it hard to survive," Baidu chief executive Robin Li said, according to the China Daily newspaper.
He added that only a few hundred apps - which reportedly make up just 0.1% of the apps available - made up 70% of all downloads.
But the chief executive said the Light App would provide exposure to "low frequency" apps, which a user might need to use only occasionally.
Developers of these less popular apps would still earn revenue through the conventional channels - adverts within their app or through downloads.
Baidu has said it plans to add other services, such as online payment systems, travel guides and music to the Light App platform, China Daily reported.
In a rapidly expanding mobile internet market in China, some correspondents say the country's largest search engine must be more innovative to stay ahead.
In July, Baidu bought China's largest mobile app store, 91 Wireless Websoft, for nearly $2bn (£1.3bn).