Ubuntu Edge crowdfunding drive misses target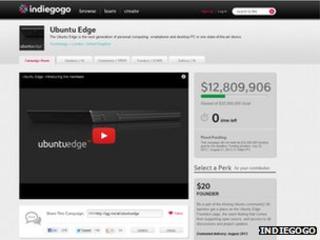 The 30-day crowdfunding campaign to raise $32m (£20.5m) for the Ubuntu Edge smartphone has failed.
Developer Canonical raised almost $13m from 27,488 funders, surpassing the previous crowdfunding record of more than $10m set by Pebble smartwatches' Kickstarter campaign.
It had wanted to manufacture 40,000 handsets with its free operating system for qualifying backers by next May.
But all pledges will now be returned after it failed to reach its target.
"We realised that it is very difficult to crowdfund for both the development and the production costs together," Canonical founder Mark Shuttleworth told the BBC.
"That's why the costs have escalated here. That's a new insight," he added.
Mr Shuttleworth said that in a future campaign Canonical would "try to find a different source for the development costs and have that secured" before launching a crowdfunding campaign to manufacture the handsets.
Chose 'fixed funding'
Programs on the proposed smartphone would have looked like standard mobile apps when the handset was being used as a standalone device.
But they would have changed their user interfaces to that of a desktop application when the phone was docked with a monitor, Canonical had said.
In addition, the operating system could support apps written in the HTML5 web language, albeit at slower speeds.
The Ubuntu Edge campaign raised nearly $3.4m in the first 24 hours.
But the pace of fundraising slowed after that.
The campaign had offered the first 5,000 backers the chance to buy one of the new smartphones for $600. After that, contributors would have had to pay $830 for their smartphone.
Later in the campaign, Canonical reportedly introduced additional pricing tiers - of $625, $675, $695 and $725.
In an interview with the BBC last week, Canonical founder Mark Shuttleworth said many lessons had been learned over the course of the campaign, and he would rethink the strategy of offering a discounted price to early funders.
Canonical chose to use Indiegogo's "fixed funding" campaign, under the terms of which all the money pledged must be returned if the campaign does not reach its funding goal.
The company could have selected a "flexible funding" campaign and kept most of the funds, after paying a higher percentage to Indiegogo for missing the target.
Canonical planned to make money by charging for support and training for Ubuntu and taking a share of online sales from handset makers who adopted its software.
Indiegogo's current funding record of $1,665,380 was set by Scanadu Scout - a scheme to build a Star Trek-style Tricorder medical scanning device.
Other independent fundraising campaigns have attracted larger sums, such as Cloud Imperium Games, which has gathered more than $15m by soliciting contributions directly on its website. It raised more than $2m in a separate campaign on Kickstarter.