Groklaw news website abandoned over US surveillance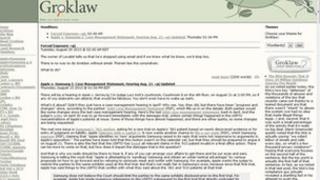 An award-winning legal news website has stopped work, saying it cannot operate under current US surveillance policies.
Pamela Jones, Groklaw's founder, cited the alleged US practice of screening emails from abroad and storing messages "enciphered or otherwise thought to contain secret meaning" for five years.
Groklaw had promised its sources anonymity, but said it could not now ensure contributors would stay secret.
Experts said they were worried that a site like Groklaw was closing.
The US National Security Agency's operations came under the spotlight following a series of leaks to the Guardian newspaper by former intelligence analyst Edward Snowden.
The NSA has since confirmed that it collected and analysed emails and other "select communications" from non-US persons, and that messages from US citizens were "sometimes incidentally acquired" as part of its operations.
In the wake of the disclosures, two encrypted email services - designed so that no-one other than the recipient could read the messages - have also closed.
One of those services, Lavabit, alluded to harassment by the US government in a statement to its customers when it shut down.
'Impunity for journalists'
"There is no way to continue doing Groklaw, not long term, which is incredibly sad," Ms Jones wrote, adding: "There is now no shield from forced exposure."
Ms Jones suggested that the anonymity of Groklaw's contributors could be at risk, since emails were screened by the US government.
"I can't do Groklaw without your input," she said. "There is now no private way, evidently, to collaborate."
She added: "What kind of world are we living in if the governments of the world think total surveillance is an appropriate thing?"
The website gave no prior indication that it might close, and legal experts have said the development is unfortunate.
"I'm saddened to hear about the demise of Groklaw," said Michael Meurer, a professor of law at Boston University.
"It has been a great source for information about the latest developments in technology law and policy. Several of my students launched their research projects based on what they learned reading Groklaw."
London-based patent lawyer Andrew Alton, of Urquhart-Dykes and Lord, said: "It's been a great resource because it brings together all the available documents, instead of reading second or third hand analysis.
"I understand why Ms Jones has decided it cannot continue.
"There is a danger that, by encouraging people to contribute, those individuals might be incriminating themselves."
Heather Blake, of Reporters Without Borders, said it was an issue of great concern if journalists in the US and UK began to feel intimidated by their governments.
"This has been going on in countries where there have been high levels of impunity for journalists both online and offline," she said.
"Humans have a right to freedom of expression, and freedom of information."
Andrea Matwyshyn, a law professor at Wharton School, University of Pennsylvania, added: "The final Groklaw post debunked the argument that if one has nothing to hide, one should not be concerned with internet privacy, comparing digital surveillance to the type of dignitary violation committed by a burglar who touches undergarments in a home.
"This comparison will likely strike a chord with many internet users who feel unable to understand who is collecting information about them and for what purpose."
Prominent patents blogger, Florian Mueller, who has been the subject of criticism by Groklaw, noted the website announced it would close in 2011.
"We've had our differences in the past," he said. "But I think it likely that Groklaw will be back."
The site, which was founded in 2003, has focused on technology and patent cases, most recently reporting on a battle between Apple and Samsung.