High-speed in-flight internet possible by 2014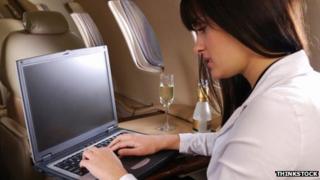 In-flight wi-fi fast enough to stream video content from sites such as Netflix and the BBC's iPlayer could be available on airlines by 2014.
Communications regulator Ofcom is proposing to license a new satellite system for aircraft, ships and trains.
Earth Stations on Mobile Platforms (ESOMPs) can deliver connections up to 10 times faster than those currently available to travellers.
Britain's airlines have not indicated whether they would use the technology.
Ofcom began a consultation last week on the authorisation of the stabilised satellite dish system, which utilises high-frequency bands.
'Commercial decision'
Several commercial satellite operators are planning to launch networks that support the use of ESOMPs in the coming months.
An Ofcom representative said airlines would "have to make a commercial decision" on whether to utilise the new systems.
British Airways' in-flight entertainment and technology manager, Richard D'Cruze, said the airline was "closely monitoring developments in the connectivity market in both the satellite and direct air-to-ground technology areas".
Ofcom says it has been working with its European counterparts for the past two years, including France, Germany and Luxembourg, who are in the process of putting together their own regulations.
The Federal Communications Commission (FCC) in the US has already authorised the use of ESOMPs.
Andrew Ferguson, editor of broadband information website thinkbroadband.com, told the BBC the "inevitable higher costs for new systems" may be passed on to data-hungry passengers, who would instead choose to rely on various 3G and 4G mobile options.
"The parts of the UK that might benefit the most are those train services in rural areas where 3G connectivity is currently very poor or non-existent," he added.
"If the consultation does result in the roll-out of this satellite based mobile connectivity, with its stabilised satellite dish system, the totally connected world vision will be one step closer, and passengers on aeroplanes may have to endure the loud telephone calls of others who have VoIP, Skype or similar on their phones."