Zara co-founder Rosalia Mera dies aged 69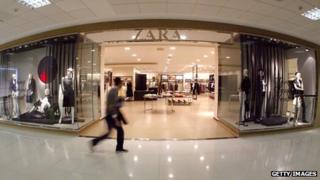 Rosalia Mera, the co-founder of the Spanish fashion giant that owns Zara, and Spain's richest woman, has died.
According to Spanish media, she suffered a stroke while on holiday in Menorca and was flown back to Coruna in northern Spain where she died at the age of 69 on Thursday evening.
Mera left school at 11 and worked as a tailor before starting Inditex with her ex-husband Amancio Ortega.
She helped build the company into one of the world's biggest retailers.
Inditex owns the Zara, Massimo Dutti and Bershka brands.
In a statement the company said: "The group wishes to send its sincere condolences to her loved ones and friends at this extremely difficult time, after the loss of a person who contributed so much to the origins and development of the company."
Mera did not court publicity and rarely gave interviews, according to the BBC's Tom Burridge.
"Rosalia Mera had a rags to riches backstory, and that seems to have shaped her belief that the money of millionaires, or even billionaires like her, should not be flaunted," he said.
Mera and Mr Ortega divorced in 1986 after 20 years of marriage.
She left the board of directors of Inditex in 2004 but still owned a near 7% stake in the company, according to the the newspaper El Pais.