City of London calls halt to smartphone tracking bins
By Joe Miller
BBC News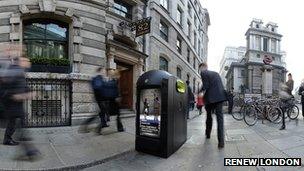 The City of London Corporation has asked a company to stop using recycling bins to track the smartphones of passers-by.
Renew London had fitted devices into 12 "pods", which feature LCD advertising screens, to collect footfall data by logging nearby phones.
Chief executive Kaveh Memari said the company had "stopped all trials in the meantime".
The corporation has taken the issue to the Information Commissioner's Office.
Mr Memari told the BBC that the devices had only recorded "extremely limited, encrypted, aggregated and anonymised data" and that the current technology was just being used to monitor local footfall, in a similar way as a web page monitors traffic.
He added that more capabilities could be developed in the future, but that the public would be made aware of any changes.
The bins, which are located in the Cheapside area of central London, log the media access control (MAC) address of individual smartphones - a unique identification code carried by all devices that can connect to a network.
A spokesman for the City of London Corporation said: "Irrespective of what's technically possible, anything that happens like this on the streets needs to be done carefully, with the backing of an informed public."
Mr Memari insisted that the bins were just "glorified people-counters in the street" and that his company held no personal information about the smartphone owners.
While the collection of anonymous data through MAC addresses is legal in the UK, the practice has been described as a "grey area".
The UK and the EU have strict laws about mining personal data using cookies, which involves effectively installing a small monitoring device on people's phones or computers, but the process of tracking MAC codes leaves no trace on individuals' handsets.
Websites or companies wanting to use cookies to tracks users' habits have to ask for permission. By monitoring MAC addresses, which just keeps a log of each time a wi-fi enabled device connects to another device, they can work around this requirement.
Presence Orb, the company that provides the tracking technology to Renew London, calls its service "a cookie for the real world".
Nick Pickles, director of Big Brother Watch, said: "I am pleased the City of London has called a halt to this scheme, but questions need to be asked about how such a blatant attack on people's privacy was able to occur in the first place.
"Systems like this highlight how technology has made tracking us much easier, and in the rush to generate data and revenue there is not enough of a deterrent for people to stop and ensure that people are asked to give their consent before any data is collected."
Reacting to the City of London Corporation's call, an Information Commissioner's Office spokesperson said: "Any technology that involves the processing of personal information must comply with the Data Protection Act.
"We are aware of the concerns being raised over the use of these bins and will be making inquiries to establish what action, if any, is required."
Related Internet Links
The BBC is not responsible for the content of external sites.