No internet access in 17% of UK homes, ONS data shows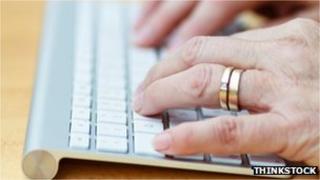 Four million homes in the UK are still not connected to the internet, the Office of National Statistics said.
The ONS's data said the majority, 59%, of those unconnected said they simply did not need to be online.
Twenty per cent said they lacked the computer skills needed to get online, while another 10% said they could not afford it.
Three-quarters of the UK's adults access the web daily, with mobile browsing growing most quickly.
Just over half of all adults accessed the internet on their phones - more than double the total in 2010.
The most active age group online was the 25-34 bracket.
"The internet has changed the way people go about their daily lives," the ONS said.
"This release highlights that activities previously carried out on the high street are now increasingly being carried out online."
Government pledge
Also on the up were readers of newspapers online - 55% of those surveyed now said they now use the internet to read news.
Other popular uses - such as banking, finding health information and buying groceries - are all steadily increasing.
Researchers said the advent of 4G mobile speeds had helped boost the number of us getting online.
Overall, 21 million households - 83% - have internet access, up 3% on 2012.
The remaining 17% is the subject of various government schemes designed to increase internet adoption.
Ministers have pledged to bring at least two megabits per second (Mbps) broadband to all homes in Britain by 2015 - and educational programmes sharing the benefits of internet use are ongoing.
The ONS data suggested that more than a third of over 65s are now online, but Age UK has warned there is still crucial work to be done in this area.
"It is important that ongoing training and support are available for the five million people aged 65 and over who have never been online," said Michelle Mitchell, the charity's director general.
"As well as for those who are online but who may need additional help to undertake certain activities."