LG puts buttons on back of G2 smartphone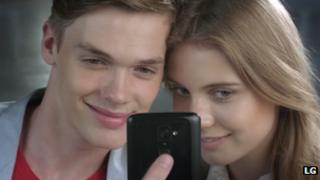 LG is hoping to shake up smartphone design by placing the only physical buttons of its new flagship model on the rear of the handset.
The firm says the G2 addresses the problem that mobiles become harder to control the bigger they get.
The South Korean company recently reported its strongest ever mobile phone figures.
However, analysts are split over whether or not their latest innovation is a winner.
The new device features a 5.2in (13.2cm) screen and is powered by Android.
Its rear keys can be used to adjust its volume or - if pressed for a longer time - to activate the device's camera and note-taking software.
LG suggests that using a back-button to take a self-portrait with the front camera also makes it easier to take a steady shot.
"Moving the main buttons to the back of the phone gave users more control since this place was where individuals' index fingers are naturally located," it said.
"Researchers also found that moving the buttons also resulted in fewer dropped phones when adjusting the volume while talking."
LG overtook Huawei to become the world's third best-selling smartphone maker in the first three months of the year thanks to demand for its Nexus 4 and Optimus range, according to market research firm Gartner.
One of its researchers suggested the move could indeed help address issues consumers have with the design of bigger mobiles.
"This is a potentially interesting concept for LG because as phones get larger, the position of the phone in the hand and how you use it is going to change," said analyst Brian Blau.
"Whether the button on the back proves to be a winner long-term has yet to be determined, but it deserves some amount of consideration."
But another tech consultancy, Juniper Research, dislikes the concept.
"I'm not convinced that this represents a killer design," said analyst Michael Wiggins.
"The positioning of the navigation button doesn't appear to be particularly user-friendly, either, particularly if - given the size of the device - you're an individual with smaller hands.
"For a few more millimetres of screen, it's not a great trade-off."
LG v Samsung
LG announced that it shipped a record 12.1 million handsets over the April to June period.
However, its mobile unit is not as profitable as that of Samsung or Apple because much of the demand was accounted for by its lower-margin mid-range devices.
Coupled with an increased marketing budget and weak sales of its TVs, it meant the firm still posted a 9% drop in net income.
At the time, So Hyun-chul, an analyst at Shinhan Investment Corp declared that LG needed a "mega-hit smartphone to dramatically raise its profit".
The launch of the G2 was notable for being the first time LG has chosen to host a special event in the US to unveil a handset - something other manufactures Samsung, HTC and Nokia have become accustomed to.
The new device's other stand-out features are a 13 megapixel camera with image stabilisation and 24 bit/192kHz audio playback, which LG claims can reproduce music at a quality that is "far superior to a CD".
"This is LG's top-tier play and from a specs point-of-view it looks good versus the Samsung Galaxy S4, which is the probably the nearest phone in the market," said Stuart Miles, founder of gadget review site Pocket-lint.
"It's now down to whether people believe strongly enough in the LG brand versus Samsung's when it comes to choosing which phone to go for.
"Ultimately I think LG has a chance, but Samsung may just end up steamrollering them with marketing."
LG said the G2 would go on sale first in South Korea and then North America, Europe and other markets over the next eight weeks.