UK teen crowned world Microsoft Word 2007 champion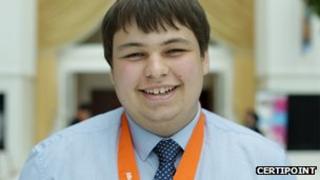 A student at Sawtry Community College in Cambridgeshire has become world champion at using Microsoft Word 2007.
Kieran Youngman, 17, beat more than 344,000 competitors from 90 countries to win $5,000 (£3,000) and a trophy.
Exam-testing company Certiport set online challenges featuring the 2007 or 2010 versions of Microsoft Office programs Word, Excel and Powerpoint.
The best 100 contestants were invited to the final in Washington DC - next year's will be in Anaheim, California.
Mr Youngman said: "Career-wise I think it will show any employers I know how to use a Microsoft Office product
"There's no other way to prove you know exactly what you're talking about, without certification.
"Certification is validation you know what you're doing.
"With school, I'll be able to write reports and essays and stuff and make it a bit more fancy, to hopefully get a few extra marks."
Asked how his friends back in the UK would react, he said: "I'm going to be honest... a few might not be surprised."