Zynga sues sex app maker over Bang With Friends name
By Zoe Kleinman
Technology reporter, BBC News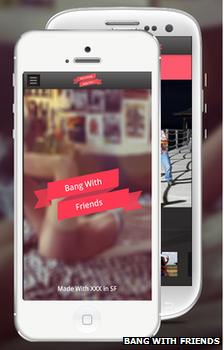 The makers of a "casual sex matchmaking app" called Bang With Friends are facing legal action over its name from games studio Zynga.
The app, which launched in January, alerts Facebook friends who express mutual interest in a sexual encounter.
Bang With Friends Inc says it has more than a million registered users
Zynga, which owns games Words With Friends and Chess With Friends, has filed court papers in San Francisco complaining of trademark infringement.
Zynga says Bang With Friends Inc "selected the name Bang With Friends for its casual sex matchmaking app with Zynga's game trademarks fully in mind", reports Bloomberg.
"Zynga filed a lawsuit to stop blatant infringement of its valuable 'With Friends' brand," Renée Lawson, the firm's Deputy General Counsel, said in a written statement.
"A company calling itself 'Bang with Friends' - whose own founders played Zynga's 'With Friends' games - decided to gain attention for its sex-related app by leveraging Zynga's well-known mark. Zynga is compelled to file suit to prevent further consumer confusion and protect its intellectual property rights against infringement."
Bang With Friends said it had yet to receive official papers.
"We heard through media reports that Zynga has filed a trademark infringement claim with respect to the 'with friends' part of our name," the company told the BBC.
"As a technology company, we take intellectual property seriously, and will evaluate the case in detail once we receive a copy."
Trademark expert Roland Mallinson, a partner at Taylor Wessing legal firm, said Zynga would have to weigh up whether the legal action would be less harmful to its reputation than any parody of the brand.
"Some parody uses actually support a brand and can make it more 'cool' - but ultimately you want to control your brand and how it is presented," he told the BBC.
"The argument is about some quite generic words - can Zynga have a monopoly on '...with friends'?
"Just because they might have 'Words With Friends' protected does not necessarily mean they can stop Bang With Friends - this would certainly apply in the UK and Europe."
The Bang With Friends app was removed from the Apple app store a week after it was initially listed in May but it is still available for Android devices via Google Play.
Apple had pulled the app on the grounds of "offensive content", Bang With Friends Inc chief executive Colin Hodges said in an interview with Business Insider.
"We just want to work with them to get back into their store," he added.
"We feel like our app goes with their guidelines - especially with similar apps that have a matching ability."
Related Internet Links
The BBC is not responsible for the content of external sites.