Eve players stage giant online space battle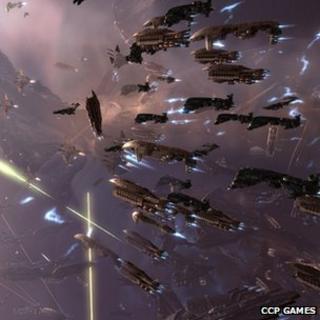 One of the largest video game space battles ever seen has taken place in the Eve Online game.
For five hours on 28 July about 4,000 players took part in the epic battle between two of the game's biggest alliances.
The two sides were fighting for control of resources within several of the game's solar systems.
Time was slowed down in the virtual universe to help servers cope with the huge numbers of players and ships.
The battle pitted spaceships belonging to CFC against those from the Test Alliance in a region of space known as 6VDT. It ended in victory for CFC.
Eve Online is a detailed space simulation that sees players fly spaceships through thousands of virtual star systems, seeking resources they can use to prosper.
The resources can be found on planets and in asteroid fields or acquired through piracy or other underhand means.
Ships vary in size from small trading vessels to giant capital ships.
Erlendur Thorsteinsson, one of Eve Online's developers, confirmed in a tweet that the battle was the biggest ever seen in the game.
At its peak the battle involved 4,070 pilots and their ships.
Game time was slowed to 10% of normal to lighten the load on servers working out who was shooting at whom.
The pivotal moment in the battle took place two hours in, when CFC sent in a large fleet of capital ships - the most powerful in the game.
Their arrival prompted many members of the Test Alliance to try to flee.
By the end of the conflict thousands of ships are believed to have been destroyed.
Their destruction has a real-world cost as the game's internal currency can be bought with real money.
So far no-one has worked out the total value of the ships destroyed, but a far smaller battle earlier in 2013 laid waste to far fewer spacecraft that in total were estimated to be worth more than $15,000 (£10,000).
The giant battle was the culmination of a long campaign by CFC to force the Test Alliance out of 6VDT.
Some have speculated that it may be the only the first of a series of conflicts that seek to extinguish TEST.
"These kinds of conflicts are business as usual in Eve but this one was bigger than normal," said James Binns from the PCGamesN website.
Mr Binns said several big events had made the last few weeks in Eve absorbing to watch. During that time a giant ship was hijacked and then destroyed in a carefully co-ordinated ambush and a huge in-game corporation was disbanded and its resources stolen by a spy from a rival faction.
"It's a fascinating online world and its constant drama is nothing like any other game," he said.