Microsoft's Bing introduces child abuse search pop-ups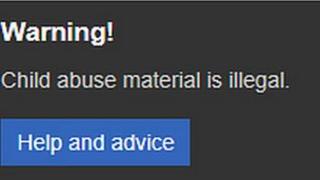 Microsoft's Bing search engine has become the first to introduce pop-up warnings for people in the UK who seek out online images of child abuse.
The notification will tell them the content is illegal and provide details of a counselling service.
It comes after the prime minister said internet companies needed to do more to block access to such images.
Yahoo, which uses Bing's technology on its search page, said it was considering a similar move.
Google, the UK's most popular search engine, is not planning to use pop-ups but said it would continue to report material and help experts combat the problem.
The debate about online images showing the sexual abuse of children has come to prominence after two high-profile murder trials heard how the killers searched for them.
Bing's pop-up warning, which only applies to searches conducted in the UK, is triggered when people enter words on a "blacklist" compiled by the Child Exploitation and Online Protection Centre (Ceop).
Microsoft said the notifications aimed "to stop those who may be drifting towards trying to find illegal child abuse content on the web via search engines".
A spokesman said: "This is in addition to Microsoft's existing and longstanding policy of removing any verified links to illegal content of this sort from Bing as quickly as possible."
"Microsoft has been, and remains, a strong proponent of proactive action in reasonable and scalable ways by the technology industry in the fight against technology-facilitated child exploitation. We have teams dedicated globally to abuse reporting on our services and the development of new innovations to combat child exploitation more broadly."
However, Bing's alert does not seem to go as far as Prime Minister David Cameron's call for a message warning people of the consequences a criminal conviction for their actions could have "such as losing their job, their family, even access to their children".
He also called for the internet companies to block certain searches from even providing results.
"There are some searches which are so abhorrent and where there can be no doubt whatsoever about the sick and malevolent intent of the searcher," the prime minister said in a speech.
'Positive step'
Google, which last December was found by a consumer group to have an 88% share of the UK search engine market, said it had a "zero tolerance policy" to child abuse imagery.
A company spokesman said: "We use purpose-built technology and work with child safety organisations to find, remove and report it, because we never want this material to appear in our search results. We are working with experts on effective ways to deter anyone tempted to look for this sickening material."
A spokeswoman for Yahoo said it supported the work of third parties in "running education and deterrence campaigns on our platforms and are already actively engaged in discussions with Ceop and others".
She added: "Yahoo has a zero tolerance policy when it comes to child abuse images online. Our dedicated governance and safety teams work hand-in-hand with the product, engineering, and customer care teams to remove these illegal images. We also work with a number of external partners."
A Ceop report this year highlighted how the "hidden internet" helped distributors of child abuse images to evade detection by using encrypted networks and other secure methods.
Ceop deputy chief executive Andy Baker said: "This is a positive step in the right direction to deterring potential offenders from accessing indecent images of children on the internet. But it is a small, initial part of the solution to prevent child sexual abuse, protect children and pursue offenders.
"While the Bing project isn't the whole solution, I hope it goes some way to making those who are curious about searching for indecent images think again."
Ceop acknowledged its "blacklist" could not include every search term that might lead to images of abuse.
John Carr, from the Children's Charities' Coalition on Internet Safety, told the BBC: "To hardened technology-sophisticated, technology-literate paedophiles, these pop-ups will probably make very little difference.
"But there is a very large number of men who perhaps have a marginal interest in this type of material and we need to stop them getting any further engaged with it."
Mr Carr said the internet companies were all focusing on the problem of child abuse material.
In June, after a meeting chaired by the culture secretary, the government said Google, Microsoft, Yahoo, Twitter and Facebook would allow the charity the Internet Watch Foundation actively to seek out abusive images, rather than just acting upon reports they received.