Chinese firm Huawei controls net filter praised by PM
By Dave Lee
Technology reporter, BBC News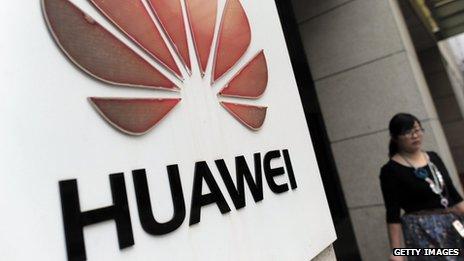 The pornography filtering system praised by David Cameron is controlled by the controversial Chinese company Huawei, the BBC has learned.
UK-based employees at the firm are able to decide which sites TalkTalk's net filtering service blocks.
Politicians in both the UK and US have raised concerns about alleged close ties between Huawei and the Chinese government.
The company says the worries are without foundation and prejudiced.
On Monday the Prime Minister said TalkTalk had shown "great leadership" in setting up its system, Homesafe, which it has offered to customers since 2011.
TalkTalk told the BBC it was comfortable with its relationship with Huawei, and that the service was very popular.
Homesafe is a voluntary scheme which allows subscribers to select categories - including social media, gambling and pornography - that they want blocked.
Customers who do not want filtering still have their traffic routed through the system, but matches to Huawei's database are dismissed rather than acted upon.
Mr Cameron has demanded similar measures be adopted by all internet service providers (ISPs) in the UK, to "protect our children and their innocence".
He said ISPs would be monitored to ensure filtering was done correctly, but that they should choose their own preferred solution.
However, one expert insisted that private companies should not hold power over blacklists, and that the responsibility should lie with an independent group.
"It needs to be run by an organisation accountable to a minister so it can be challenged in Parliament," Dr Martyn Thomas, chair of the IT policy panel at the Institution of Engineering and Technology, told the BBC.
"There's certainly a concern about the process of how a web address gets added to a blacklist - who knows about it, and who has an opportunity to appeal against it," he added.
"You could easily imagine a commercial organisation finding itself on that blacklist wrongly, and where they actually lost a lot of web traffic completely silently and suffered commercial damage. The issue is who gets to choose who's on that blocking list, and what accountability do they have?"
For almost a decade, Huawei has been a core part of telecoms infrastructure in the UK - its biggest client, BT, has routinely said it has no concerns about using the firm.
Huawei's founder Ren Zhengfei, a former officer in China's People's Liberation Army, visited Downing Street last year after his company made a £1.3bn investment into its UK operations.
The committee said "the alleged links between Huawei and the Chinese State are concerning, as they generate suspicion as to whether Huawei's intentions are strictly commercial or are more political" - but added that it had not found any evidence of wrongdoing.
It said it had worries that a UK-based testing centre set up to examine Huawei products was staffed by experts employed by the Chinese firm.
The ISC said Huawei was "effectively policing themselves".
In the US, intelligence committees have gone further, branding Huawei a threat to national security.
For its part, Huawei strongly denies having close ties with the Chinese government, pointing out it is 98.6% owned by its employees - with the remaining amount held by Mr Ren. It welcomed the ISC's call for a review of the testing centre.
Huawei executive Chen Li Fang said the company should not be treated unfairly just because it was Chinese.
The UK government said it too agreed with the ISC's call to review the testing centre, adding that it works with all major communications providers to ensure security.
"Our work with Huawei and their UK customers gives us confidence that the networks in the UK that use Huawei equipment are operated to a high standard of security and integrity," a spokesman said.
Web filtering, which is not considered critical national infrastructure, was not covered in the ISC's report.
But the logistics of how Mr Cameron's plans will be implemented have been the subject of much debate.
Initially, TalkTalk told the BBC that it was US security firm Symantec that was responsible for maintaining its blacklist, and that Huawei only provided the hardware, as previously reported.
However, Symantec said that while it had been in a joint venture with Huawei to run Homesafe in its early stages, it had not been involved for over a year.
TalkTalk later confirmed it is Huawei that monitors activity, checking requests against its blacklist of over 65 million web addresses, and denying access if there is a match.
The contents of this list are largely determined by an automated process, but both Huawei and TalkTalk employees are able to add or remove sites independently.
Illegal websites - including ones showing images of child abuse - are blocked for all customers with the help of a list maintained by the non-profit Internet Watch Foundation.
Mr Cameron said that the actions of ISPs would be monitored to ensure filtering is done correctly.
Communications regulator Ofcom is expected to play some role in this, possibly by auditing the firms and reporting back to ministers regularly.