Tango chat app hacked claims Syrian Electronic Army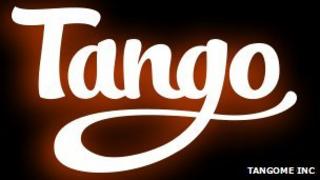 The Syrian Electronic Army (SEA), hackers loyal to president Bashar al-Assad, claims to have stolen millions of users' personal details from Tango, a popular video and text messaging app.
SEA says it hacked into Tango's back-up database and downloaded users' private phone numbers, contacts and emails, amounting to 1.5 terabytes of data.
The hackers posted screenshots on their website to back up their claims.
SEA says it will give "much of the information" to the Syrian government.
TangoMe Inc confirmed a security breach via its Twitter feed saying: "Tango experienced a cyber intrusion that resulted in unauthorized access to some data. We are working on increasing our security systems."
But the US firm did not confirm that it was SEA that carried out the attack nor that 1.5TB of data had been stolen.
"We sincerely apologise for any inconvenience this breach may have caused our members", Tango added in a follow-up tweet.
Hijacking
The SEA then took offence at a caricature of the Syrian president accompanying a report of the Tango hack story posted on The Daily Dot website.
It asked for the picture to be removed in a tweet, then hacked into the news site's administration panel and deleted the entire article.
The same group achieved notoriety after successfully hijacking official Twitter feeds of the BBC, Associated Press, the Financial Times and The Guardian newspaper.
But the hackers did not say why they had targeted Tango in particular.
Internet security experts believe the breach may have been related to Tango's use of an outdated version of the WordPress content management system.
According to E Hacking News Tango was still using WordPress version 3.2.1, when the latest version is 3.5.2.
Tango, based in Mountain View, California, has amassed more than 120 million registered users of its free video and text messaging application since its launch in 2009.
The cross-platform app is available in 39 languages in more than 210 countries and allows users to play games and watch animations during calls, as well as edit photos and send e-cards.
No-one from the company was available for comment at the time of writing.