Belarus internet infested with spammers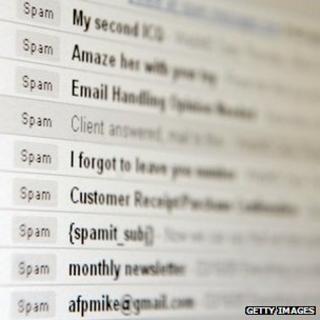 Almost 30% of all net addresses in Belarus are blocked by anti-spam firms because of the amount of junk mail passing through them, says a report.
East European nations top the list of countries with the largest percentage of blacklisted net addresses, said security firm Cloudmark.
It said Belarus had become popular among spammers as other nations cracked down on junk-mail senders.
The US was still the single biggest source of spam, it said,
Belarus (27.4%), Romania (22.3%) and Russia (3%) filled the top three slots of a list of nations that have IP addresses known to be sources of spam, said Cloudmark researcher Andrew Conway.
Now, he said, data traffic from just over three million Belarusian IP addresses was being blocked in an attempt to stem the flood of junk mail passing through them.
Paul Ducklin, security researcher at Sophos, said Belarus's ratio of junk-sending IP addresses to population meant it was "way out at the top" of its list of spam senders per capita.
"It's been the worst per person all year," said Mr Ducklin, adding that despite its small size it was closing in on the US as the single biggest source of spam in the world.
"Belarus is in a league of its own at the moment," he said.
Mr Conway from Cloudmark said Belarus's rapid rise was the consequence of other Eastern European nations, such as Russia, getting better at stamping out spam sources. In addition many hosting firms and ISPs in other countries were reacting much more quickly, he said, which left spammers looking for places where they could act with impunity.
Belarussian ISPs and hosting companies had also become a favourite among Romanian spam gangs, he said, who were being flushed out of other networks.
The percentages were a historic high, said Mr Conway, and indicative of serious trouble.
"Typically when we look at individual hosting companies if we are blocking more than 1% of the total they have a problem," he said.
Lax security controls by Belarussian net firms meant it was taking the blame for cyber criminals more than likely based outside the country, said Mr Conway. Most spam is now routed through hijacked machines and is rarely generated in the nations from which it seems to emanate.
The large scale blacklisting would have a knock-on effect on legitimate businesses, he warned.
"It'll cause problems for people who are there that want to send email internationally," said Mr Conway.