Premier League wins piracy block of First Row Sports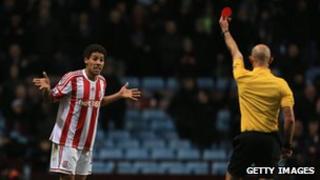 The Premier League has won a court order forcing UK internet service providers to block a popular football streaming website.
FirstRow1.eu, operated from Sweden, links to various video streams showing football from around the world - a breach of copyright, the High Court ruled.
It will be blocked ahead of the new season, which begins next month.
It is the first time a sport-related website has been blocked in the UK.
It follows a raft of site blocks put in place by the music industry, which is increasingly using ISP-level filtering to cut off access to popular sites offering free downloads illegally.
However, this case marks the first time a site simply facilitating access to streaming sites - rather than hosting streams themselves - has been blocked.
'£10m a year'
"It is absolutely imperative that content industries are afforded protection under the law if they are to continue investing in the sort of quality talent and facilities that have made them successful and of interest in the first place," a spokesman for the Premier League said.
"The judgement recognises the parasitic nature of the enterprise; this was an out and out commercial operation with estimated revenues of up to £10m a year, whilst giving nothing back to the sport."
FirstRow1.eu told the BBC the block would be ineffective, as it would not remove the streams from the web.
"The average user is a kid or a person that doesn't have the means to see it any other way," a spokesman wrote in an email.
The comments echo the sentiment of open internet campaigners who disagree with blocking, arguing that content owners should instead concentrate on providing more legal methods to access content online.
Securing the rights to show Premier League football is huge business.
BT Sport, a newcomer in the market, is paying £246m per season for its broadcast rights, while BSkyB is paying £760m a year.
Follow Dave Lee on Twitter @DaveLeeBBC