Exeter students win $50,000 prize for music-syncing app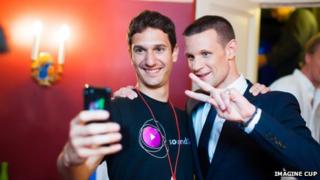 A team of students from Exeter University has won $50,000 (£33,100) for developing an app that allows an infinite number of devices to play music simultaneously.
The team behind the app, SoundSynk, won first prize in innovation at the Imagine Cup, a student technology competition sponsored by Microsoft.
The team has so far tested it on 75 devices.
The app will be available across all platforms in August.
Edward Noel, Rob Parker, Alex Bochenski and Jonathan Neuman were presented with their prize by Doctor Who star Matt Smith in St Petersburg.
"With this technology, we can create hyper-local social networks," said Mr Parker.
"SoundSynk is the first practical use of this technology and we are all very excited about its future applications."
Artificial mesh
The app will get its biggest test at the end of August when it will be showcased at a performance at the Reading Festival of up to 80,000 people.
SoundSynk connects phones and other devices through a so-called artificial mesh network, allowing them to play the same song on all devices in perfect harmony.
The students came up with the idea late on a Saturday night in February. They were playing Sweet Nothings by the DJ, Calvin Harris, on a laptop and they wanted to have it louder as they brainstormed.
"Being students we wanted to have a little rave but the volume was not sufficient," Alex Bochenski said.
"At this point we did the age-old technique of lining up all of our phones, laptops, tablets and trying to play the song at the same time."
It didn't work - but it sparked the germ of an idea that would eventually see them compete in Russia, beating teams from Slovenia and Thailand in the innovation category.
"We developed a prototype of the product in 24 hours for the regionals of the Imagine Cup," Mr Bochenski said.
Eighty-seven student teams from 71 countries competed in the worldwide finals.