Net firms raided over broadband 'throttling'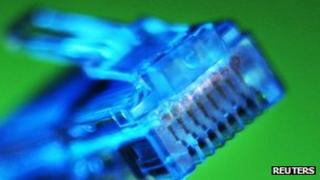 European regulators have raided the offices of three internet service providers over accusations they have "throttled" the speed at which they deliver data.
European Commission competition officials visited Deutsche Telekom, Orange and Telefonica's head offices.
The raids were part of a probe into alleged uncompetitive market practices by the three firms.
The probe was kicked off by complaints made by US net firm Cogent.
It claims that the three ISPs are holding back net traffic from Cogent so their own data arrived more quickly.
Cogent acts as a network middleman and delivers traffic to many European ISPs on behalf of net companies such as YouTube. The "throttling" made Cogent's services appear to be slower than those being run by the European ISPs, it said.
The Commission confirmed to Reuters that it carried out the raids but declined to name which firms were targeted. Separate inquiries by Reuters established which firms had been hit.
Orange and Telefonica said they were co-operating fully with the investigation. Deutsche Telekom declined to comment.
French telecoms regulators have already ruled on one dispute between Cogent and Orange in which the US net firm claimed it was being charged too much for the traffic it was passing to Orange's network.
The French regulator sided with Orange and said it was within its rights to ask for more money from Cogent given how much data it was passing on. Cogent has appealed against the decision.