US unveils 'Atlas' humanoid robot test bed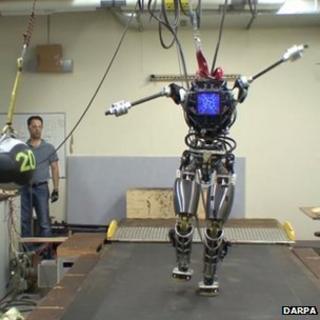 A humanoid robot called Atlas could pave the way for intelligent machines to help in the wake of natural disasters.
The two-metre tall robot was created as a test bed for a US Defence Advanced Research Projects Agency challenge.
The Darpa challenge demands Atlas completes eight tasks that it might have to perform in an emergency.
Six teams have until December 2013 to develop software that will help Atlas complete the tasks.
Atlas has been developed by the Boston Dynamics robotics firm which has been working on robots that can aid the military.
Like a human, Atlas has two arms and legs and gets around by walking. It sees using a stereo laser scanning system and has gripping hands developed by two separate robotics companies. Unlike humans, it has a high speed networking system built-in so it can communicate with its creators and pipe data back from disaster areas.
Before now, the teams taking part in the robotic challenge have only worked with virtual versions of Atlas. In the next stage of the competition, algorithms and control programs for the virtual Atlas will be transferred to the real thing.
The teams will then have five months to refine Atlas's abilities before taking part in a series of trials. During those, a tethered version of Atlas will be expected to complete tasks which include driving a car, removing debris blocking doors. climbing a ladder, finding and closing a valve and connecting a fire hose.
The best performing teams in the December 2013 trials will win funding to continue refining Atlas so it can perform all eight tasks autonomously during the challenge finals in late 2014.
"We have dramatically raised the expectations for robotic capabilities with this challenge," said Gill Pratt, programme manager for the challenge in a statement.
Darpa kicked off the competition in a bid to help drive breakthroughs in robotics. Current autonomous machines tended to be highly specialised and limited in their ability to cope with the real world.
The teams taking part include researchers from Carnegie Mellon, Nasa's Jet Propulsion Laboratory, Virginia Tech and hi-tech firm Schaft.