Feds asked to avoid Def Con hacker meeting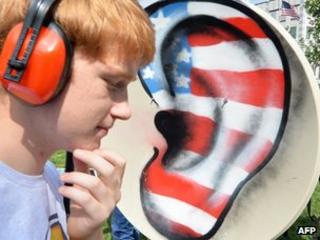 Federal agents have been asked to stay away from one of the world's biggest hacker gatherings.
Revelations about the scale of US government spying meant emotions in the hacking world were "running high", said organisers of the Def Con convention.
As a result, federal agents should take a "timeout" from Def Con this year.
The main Def Con event takes place in Las Vegas from 1 August and will see 15,000 hackers debate security topics and demonstrate their coding prowess.
Freely mix
The request was posted to the main Def Con webpage by Jeff Moss, the founder of the hacking conference.
In the past, he said, the convention had been an "open nexus" where government security staffers and law enforcement agents could freely mix and share ideas with the other hackers, researchers and security professionals that attended.
"Our community operates in the spirit of openness, verified trust, and mutual respect," he said, a state of affairs that had led to an exchange of information that had seemed mutually beneficial.
However, wrote Mr Moss, many people now questioned that free exchange of ideas in the wake of ongoing disclosures about the US National Security Agency's Prism programme, which, since 2007, has been scooping up huge amounts of data about people's online activity.
As a result, "it would be best for everyone involved if the feds call a 'timeout' and not attend Def Con this year," he wrote.
"A little bit of time and distance can be a healthy thing, especially when emotions are running high," Mr Moss told Reuters.
Despite the request, Def Con organisers were not going to be checking the identities of everyone who attended to weed out federal agents and send them packing, he added.
Paper plea
Def Con's request comes as Yahoo seeks permission to publish information about a key legal case in 2008 that let the US government establish and justify Prism.
Yahoo has filed legal papers asking for permission from the Foreign Intelligence Surveillance Court (Fisc), which decides whether US government departments such as the National Security Agency can carry out surveillance programmes.
In 2008, Yahoo had "objected strenuously" to the Fisc over requests for it to co-operate with the early Prism programme, it said. But its objections had been over-ruled by the Fisc.
Publishing those objections and the Fisc's justification for denying them would inform public debate about whether the Fisc had been correct to give the go-ahead for Prism and subsequent surveillance projects, it said. US laws mean the legal papers from 2008 are classified.
"Courts have long recognised the public has a right to access court records," Yahoo wrote.