CPS employee 'added defendant on Facebook'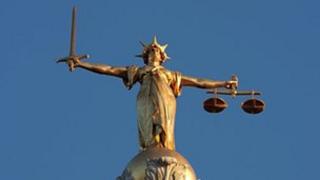 An employee working for the Crown Prosecution Service added a defendant on Facebook, a Freedom of Information request has revealed.
The member of staff had been given a written warning after an internal review, the CPS told the BBC.
Other social media incidents at the department included employees discussing a case online.
Nine CPS employees have been involved in recorded instances of social media "misuse" in the past five years.
"The CPS code of conduct references personal use of social media and is clearly set out to all staff reflecting best practice across the civil service," a spokeswoman said in a statement.
"We are satisfied that in the nine reported instances of misuse of social media by CPS employees over the last five years, the appropriate disciplinary action was taken."
The incidents, which all happened on Facebook, were:
An employee became "friends" with a defendant
Three employees made derogatory comments about staff who did not go on strike
Two employees discussed a case
An employee made derogatory comments that could have been in reference to their manager
An employee made comments about having been detained by police
An employee made comments regarding drug taking
'Uncovered swiftly'
The CPS added: "These incidents led to one final written warning and action short of dismissal, one final written warning, five first written warnings and two no warnings following disciplinary hearings."
The CPS told the BBC that the staff member who "friended" a defendant was "was in no way involved with the defendant's case" and that the case "was not compromised in any way".
Aside from becoming "friends", no further attempt had been made to contact the defendant.
"This incident was uncovered swiftly," the spokeswoman said, "and resulted in formal disciplinary action being taken, in the form of a written warning.
"These mitigating factors were taken into account in accordance with our established employment policies."
The Freedom of Information request was made by think tank Parliament Street.
Its director of technology, Steven George-Hilley, said: "It appears that the CPS is stumbling towards social media meltdown, with employees breaching every code in the online rulebook and putting the integrity of the organisation at risk.
"It's vital that public sector organisations train staff to use sites like Twitter and Facebook responsibly, to deliver more effective digital services to the public."
Follow Dave Lee on Twitter @DaveLeeBBC